Surf Book Launch Party 6/21 San Diego
Please join us (Nancy Spooner Bsharah and Tara Brouwer) on the first day of
summer as we kick off the launch of our new book, "EVEYRTHING I Know About
DATING I Learned Through SURFING!" We will party at the world's coolest surf
shop, Bird's Surf Shed (1091 West Morena Boulevard San Diego, CA 92110). The
event will feature live music, food, drink as well as a quick and fun tutorial
on how to support our crowd funding venture on Kickstarter.com. Did we mention a
raffle and prizes for our first round of backers? Most importantly feel free to
pass this on to any of your friends that you think might be interested.
Details about book and party at http://surfdatebook.com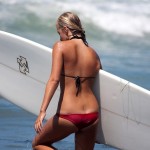 Become A Sponsor!
If you have a product or service that is a good fit for our surf community, we have opportunities for you to sponsor this blog!
Download our media kit now!