VIA – DANA POINT TIMES
Surf Culture on Wheels: Doheny Wood Car Show Set for April 14
by Andrea Swayne
Apr 09, 2012 | 240 views

Dana Point members of the Southern California Woodie Club (L to R) Gary Clark, Janeann Clark, Tom Bistline, Mike McLaughlin, Gaye Brobeck and Dave Brobeck met up at Doheny State Beach, the traditional site of the Doheny Wood car show. Photo by Andrea Swayne
Dana Point members of the SoCal Woodie Club get set to host 15th Annual Doheny Wood car show at Doheny State Beach
Spring time, Southern California-style, marks the beginning of woodie car show season, and the Southern California Woodie Club is the group that has been kicking off the tradition for the last 15 years.
Doheny Wood, the largest all woodie beachside car show in the country, will mark its 15th anniversary at Doheny State Park, 25300 Dana Point Harbor Drive, on April 14.

Janeann and Gary Clark of Capistrano Beach co-founded the Doheny Wood show 15 years ago and since 2010 have owned the woodie car sales and restoration company Woodies USA. Photo by Andrea Swayne
More than 180 examples of iconic wood paneled surf wagons from the past will be lined up in the Doheny Park south day-use area—on the beach side of Coast Highway across from Olamendi's Restaurant—and remain on display from 8 a.m. to 3 p.m.
.As in years past, the club will raffle off prizes like a hand crafted wooden surfboard, stand-up paddleboard, a hand made woodie quilt, original artwork and more to raise funds to support charitable causes like the Dana Point and San Clemente Junior Lifeguard programs, the Huntington Beach Children's shelter and, new for this year, the San Onofre Foundation.
Food and musical entertainment will also be featured.
A variety of makes—Ford, Mercury, Chevrolet, Chrysler, Rolls Royce, Packard, etc.—spanning model years 1925 through 1951 will provide plenty of eye candy for fans of shining chrome, vibrant paint, and even those who prefer to see the "original patina" of cars allowed to age naturally.
Even more entertaining than just perusing the lineup of classic automobiles, is the opportunity to get to know the owners of the cars and hear the stories of how they came to own such famed examples of Southern California surf culture.
The club has many members from in and around South Orange County including a group of members who, as residents of Dana Point and Capistrano Beach, feel a special responsibility at hosting this first show of the "woodie season."
One such couple, Janeann and Gary Clark of Capo Beach, have parlayed their love of the woodie wagon into a local business aimed at keeping the legend alive by restoring and selling the historic cars they have been fans of since their high school days.
The Clarks' saga of how their company, Woodies USA, came to be began with a phone call from a friend who had been presented with the opportunity to purchase a woodie wagon sales business and asked them to join him in the venture.
"It's been the ride of our lives ever since," said Gary. "We took a leap of faith and purchased Woodies USA Inc. in 2010."
At the time, the business was located in Arizona but the new owners knew that it really belonged in Southern California. So after an extensive search for a suitable showroom, the company moved into a building in Laguna Niguel, just up the road from Allen Cadillac, Janeann said.
As a woodie only company, Woodies USA has sold over 300 woodies of all makes and models.
"We've seen it all," said Gary. "From Fords and Mercurys from 1933 thru 1951, 1946 to 1948 Chrysler Town and Country convertibles, Packards from the early '40s to Chevrolets, Pontiacs, Oldsmobiles and Buicks from 1940 thru 1953."
The most popular of the woodies, the Clarks say, can be traced back to Henry Ford who was one of the earlier manufacturers of woodie wagons and in the early 1900s had the foresight to purchase thousands of acres of Maple wood forests in upper Michigan state.
"Henry Ford built an entire town to house his employees and erected an enormous wood mill along with an assembly plant at Iron Mountain Michigan and proceeded to manufacture the complete woodie bodies," Gary said.
The finished wooden bodies were place on railroad cars and shipped to the various assembly plants around the US and Canada.
The manufacture of the Ford woodie bodies continued at Iron Mountain until 1951 when the wooden bodied vehicles lost their appeal and were replaced with the steel body wagons that continue to this day.
"We love these glorious woodie wagons and our goal at Woodies USA is to
Read more: Dana Point Times – Surf Culture on Wheels Doheny Wood Car Show Set for April 14…
for the full article go here:
http://www.danapointtimes.com/view/full_story/18180957/article-Surf-Culture-on-Wheels–Doheny-Wood-Car-Show-Set-for-April-14?instance=home_special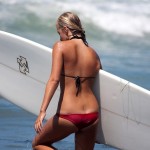 Become A Sponsor!
If you have a product or service that is a good fit for our surf community, we have opportunities for you to sponsor this blog!
Download our media kit now!