One of my bros bands opened up for Jane's Addiction a couple of times in Hawaii. Perry tried to 'pick up' on me at one of the shows, but I don't swing like that lol…
VIA – NY POST

Photo: Chapman Baehler
Farrell (center) with Jane's Addiction band mates Stephen Perkins (left) and Dave Navarro.
Jane's Addiction singer reveals his secret to staying fit at 52
By DAN AQUILANTE
Last Updated: 8:40 AM, October 16, 2011
Posted: 9:19 PM, October 15, 2011
Few artists have so completely realized the rock 'n' roll dream as Peretz Bernstein, a self-described "skinny, underdeveloped Jewish kid from Queens." After high school, he crossed America to live the beach boy life of sand and surfing, but instead got swept up in the wave of Southern California's '80s punk scene. He flipped his name to Perry Farrell and became the mastermind of Jane's Addiction. Famed for hits like "Jane Says" and "Been Caught Stealing," it was one of the greatest bands of the past 25 years.
Today Farrell is a remarkably young and vibrant 52. He still surfs, drinks, drugs and rocks with his band, which also includes original members Dave Navarro on guitar and Stephen Perkins on drums. The group's fourth album in 23 years, "The Great Escape Artist," arrives Tuesday. And Jane's Addiction arrives in NYC for a pair of rare club gigs tomorrow and Tuesday at Irving Plaza.
Farrell spoke to The Post from his home in Malibu.
Now that you've hit 50, you're married and have two young sons. Do you still get to live a rock-star lifestyle?
Sure. I've changed my habits, but I haven't been abstinent of anything. I haven't shut myself off to anything. I learned there's a time and place for everything.
But you don't indulge the same way you did when Jane's was peaking in the '90s?
No. There's not every hour in the day to get high like there used to be. There just isn't. I couldn't still be a success doing that. If there are any regrets I have, it's that I [used to] let getting high consume me.
What's to regret about that?
Jane's would have been bigger if I didn't waste so much time. You know, some of the biggest bands around today didn't make the best music — it's that they stayed in there and kept working all these years. I just sort of let myself wander off into a dark hole, and held up there for years at a time.
Why did you change?
Vanity, and then my family. I worry that I'm gonna look like crap, I worry that I won't perform well. Then I have the responsibility of being a father and I have the responsibility of being a husband.
You've also kept in shape.
That's part of my responsibility — to be attractive to my wife. I make it a point to look good for her. I don't want her to think the guy she married let himself go to pot. That's not fulfilling my end of the bargain.
So what's your health secret for staying so fit?
I attribute it to my being a musician. That might sound kind of crazy, because people think musicians are pretty self-destructive. Yeah, I have a good time on the road, but I'm sensible about stuff — like how much to drink. I work out in the gyms in the hotels I stay in on the road and when I'm onstage it's a high-impact aerobic workout. When I'm not on the road with shows to look forward to, I start to go to pot.
How do you say in shape mentally?
Surfing, being in the water. The ocean is very powerful and big, but it's very serene at the same time. It's a crazy dichotomy. The ocean grounds me. The instant I get up in the morning, I'm battling children, getting them ready for school. Then I start my day and I have lots of business I attend to, and at night I'm performing. The only time I'm happily doing nothing is when I'm in the water…
For the complete interview go here:
http://www.nypost.com/p/entertainment/music/surf_drugs_and_rock_roll_LfRdh47hbDcF300NO4HHcN?utm_campaign=Post10&utm_source=Post10Alpha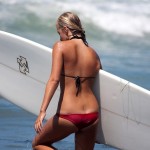 Become A Sponsor!
If you have a product or service that is a good fit for our surf community, we have opportunities for you to sponsor this blog!
Download our media kit now!