Ahhh! I was wondering when an article like this was going to be published!…
VIA – THE AUSTRALIAN
Photo – Australian Kieren Perrow, oblivious to the shenanigans on shore, took out the Pipe Masters. Picture: Kirstin Scholtz/ASP Source: Getty Images
Surf grapevine latches onto North Shore fight
Fred Pawle
From: The Australian
December 17, 2011 7:14PM
A RECENT fight between two Hawaiian surfers – both sponsored by Australian surfwear company Billabong – has led to speculation about a revival of international tension during the Hawaiian leg of the pro tour.
The scuttlebutt goes like this: Hawaiians TJ Barron and Makua Rothman had a disagreement in the water recently, and took the confrontation to the beach, where, according to rumour, Barron got the better of Rothman.
Rothman and his dad Eddie later visited the house occupied by the Billabong team on the beach at Pipeline, looking for Barron.
Nobody denies that a confrontation ensued. Australian Billabong spokesman John Mossop and Hawaiian contest director Randy Rarick both confirmed to me that the rumours of an altercation are true.
However, Rarick also confirmed that Billabong's US marketing manager, Graham Stapelberg, stepped in as pacifier, warning both surfers that a wrong move could affect their sponsorship contracts. (Barron is sponsored by Billabong; Rothman is sponsored by one of its subsidiary labels, RVCA.)
My attempts to find out what really happened from eye-witnesses hit a brick wall. Repeated calls to Stapelberg were not returned, and attempts to contact Barron and Rothman were unsuccessful.
This is where the story, however exaggerated, becomes a reflection of surfing's weird culture of paranoia and secrecy. Surf journalists who were on the North Shore, and there were dozens of them, ignored the incident. The only published reference to it was in a forum on Surfer magazine's website.
In the absence of verified information, rumours took hold, quickly growing to involve baseball bats and Stapelberg being rushed to hospital (neither of these claims is true, nor is there any suggestion that anyone involved in the alleged incident would resort to such violence).
Then the conspiracy theorists got involved, speculating on Twitter and in blogs that the incident was related to two other mysterious aspects of this year's Hawaiian leg of the pro tour: Billabong's apparent haste to finish the Pipe Masters contest in relatively small waves, despite a new swell being predicted; and the fact that local entrants to the Pipe Masters were paid $7000 less than competitors who flew in from overseas.
Was the Billabong crew heavied off the island by locals, and was the cut in prize money Billabong's form of retribution? Anonymous blog posters thought it was feasible.
Such theories have historical precedents. Acrimony between locals and the visiting pro-tour circus is as old as the pro tour itself. As the 2009 movie Bustin Down the Door documented, the local Hawaiians were violent towards visitors as far back as 1976.
The reason for the acrimony is simple: the Hawaiian concept of "aloha", which enthusiastically welcomes those who show respect to locals, is occasionally tested by seemingly ungracious visitors. Plus, every year the Hawaiians are expected to share their waves with an increasing number of visitors. Not only is the crowding of breaks frustrating, it's dangerous, and the Hawaiians invariably act as marshals in an attempt to maintain safety in the water.
When I called Hawaiian Kamalei Alexander, a local who was employed as a commentator for the Pipe Masters, to ask if there was much resentment in the air this year, he declined to comment. But a friend standing nearby grabbed his phone and yelled down the line: "For sure bud, we Hawaiians been getting ripped off for a lot of years."
When asked to identify himself, the interlocutor hung up. A subsequent call and email to Alexander yielded no reply.
Evan Valiere, a local wildcard who made it to the quarter finals of the Pipe Masters, for which he was paid $6750 instead of the $13,750 the foreign quarter-finalists earned, said via email he wanted to "get to the bottom" of the inequity.
Even Surfing magazine, of California, one of the sport's oldest publications, was suspicious, posting on Twitter: "All Hawaiian wildcards got $7000 taken out of their paychecks from the Pipe Masters. Interesting."
It's not, as it happens. Rarick told me that when the locals negotiated with Billabong to allow 10 extra wildcards into the event a few years ago, Billabong countered with the condition that the extra surfers must not cost the company any extra in prize money. Hence, all local wildcards earning $7000 less in return for their extra spots in the heat draw.
If some of the local wildcards weren't aware of this, it was their fault, says Rarick. "I don't know that all the local (wildcards) were totally aware of it," he said. "Certainly the guys who had previously surfed in the event knew it. But maybe some of the guys who were new might not have known. Everybody was informed, but whether they paid attention or not is a whole other thing."
So what of the other conspiracy theory, that the event was rushed so Billabong's supposedly besieged crew could get off the island and back to their homes in Australia and California?
This too seemed to have merit. On the last day of the event, Kelly Slater, the sport's 11-times world champion, told Rarick and contest director Marty Thomas to postpone the finals for a new swell that was predicted to hit within the event's waiting period.
Thomas, whose job it was to make the call, disagreed, and the event was held in 6-8 foot waves that were messy but still offered opportunities for great action.
"There's no guarantee that a swell coming a week later is going to be good," Rarick said, adding that the new swell might have been accompanied by the wrong winds.
"We only needed four hours to wrap it up. It turned out good. With a couple of 6-8 foot sets on offer, we thought it was good enough."
Slater's quarter-final against John Florence that morning turned out to be a thriller, with two rides scoring more than nine points and Slater taking the lead with less than two minutes left.
"That heat could have been a final," Rarick said. "Even Kelly said it was a good call after all. He might not have said that if he lost, though."
Rarick says the conspiracy theorists are too far detached from the scene to know what's really going on. "I can emphatically say as executive director (of the Triple Crown, of which the Pipe Masters is one event) that the Billabong guys were in for the long haul. They didn't care, it was Marty and my call (to run the contest). These conspiracy theorists make all this shit up and they have no clue of the reality, and people believe them."
So if the conspiracy theorists are wrong, why follow these rumours up at all? Mossop says…
For the full article go here:
http://www.theaustralian.com.au/news/sport/surf-grapevine-latches-onto-north-shore-fight/story-e6frg7mf-1226224762112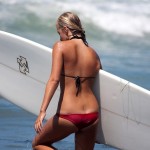 Become A Sponsor!
If you have a product or service that is a good fit for our surf community, we have opportunities for you to sponsor this blog!
Download our media kit now!