VIA – RAG TRADER


Billabong in a bind
30 Aug 2011
Iconic Australian brand Billabong is under fire again, with its US operation in hot water over an alleged breach of contract, alleged fraud, and alleged conspiracy to commit fraud.
The American arm of the surfwear label, which launched in Queensland in 1973, is being sued in the Superior Court of Orange County, California, by European Apparel, which claims that Billabong dishonoured a distribution agreement signed earlier this year.
According to recent reports, the lawsuit alleges that Paul Naude, executive director and general manager of Billabong, USA, issued the written authority in April 2011 to European Apparel authorising them as a distributor for Billabong in various markets. As a result, European Apparel commenced advertising Billabong to their clients, seeking and gaining orders from independent third parties, with an amount of US$275,000 (AUD$258,000) paid to Billabong's agent, Brad Bleick Inc., in order to commence production of the initial order of Billabong products.
The claim continues by accusing Billabong of not honouring the agreement, with US$100,000 (AUD $94,000) of the initial order deposit not yet repaid, causing the Plaintiff to suffer financial hardship. Additionally, European Apparel claims it has "lost the trust and respect of business partners and networks".
The ongoing case will see European Apparel fight for the return of the US$100,000 deposit still allegedly being held by Billabong USA or its agent, Brad Bleick. The company is also suing for unspecified damages, as they ceased to operate and were forced to cancel all existing orders with their independent third party distributors and retailers who were expecting to receive Billabong products.
Brad Bleick is an employee of Alstyle Apparel, a major supplier of t-shirts to the surf and skate industry. Alstyle is a wholly owned subsidiary of Ennis, Inc., with a market cap of over US$500 million. Billabong USA is a division of Billabong Australia (BBG: Aus) with a market cap of nearly US$2 billion.
The legal trouble for Billabong follows another recent spat involving the brand's Indonesian operations. The case, which began earlier this year, saw Billabong International former Indonesian licensee, CV Bali Balance (CVBB), sue over the termination of its distribution licence in Indonesia in the Denpasar District Court.
For the full story go here:
http://www.ragtrader.com.au/news/billabong-in-a-bind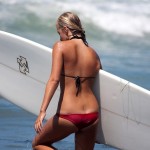 Become A Sponsor!
If you have a product or service that is a good fit for our surf community, we have opportunities for you to sponsor this blog!
Download our media kit now!