What an idiot! Inflight is a tiny old school family owned surf shop and they get robbed by this scumbag…wtf is wrong with people.
VIA – OC REGISTER


Burglary suspect arrested when she returns for her purse
By SEAN EMERY / THE ORANGE COUNTY REGISTER
SEAL BEACH – A woman who returned to a surf shop she is suspected of burglarizing in order to retrieve her purse was arrested after spraying mace or pepper spray at the couple who own the store, police said.
Police arrived Tuesday at Inflight Surf and Sail in the 1200 block of Pacific Coast Highway to find the male owner of the business attempting to subdue a woman spraying mace or pepper spray in his eyes, Seal Beach police Sgt. Steve Bowles said.
Investigators believe the woman, who they identified as Arlene Louise Bremner, 43, of Long Beach, had stolen clothes from Inflight earlier in the day and had returned after realizing that one of the store's owners had grabbed her purse from her vehicle as she tried to drive away.
A neighboring business tipped Inflight to the burglary after seeing Bremner carrying clothing while making several trips to her car, said Missy Scarbrough, who owns Inflight with her husband Scott.
"She gets in her car, so I run over there and she is down low with all the stuff in the passenger seat," Scarbrough said. "I said 'Hey, that's my stuff,' so I grabbed the clothes, but her purse was in them."
Bremner hit another vehicle as she drove away from the shop, Scarbrough said. But less than half an hour later, she was back, demanding her purse.
"When they said 'You can have it back when police arrive,' she sprayed them," Bowles said.
Missy Scarbrough said she was sprayed first, at which point her daughter ran to the second floor of the store to get Scott Scarbrough, who fought to subdue Bremner. She said the contents of the purse, including a knife, fell out as Bremner tried to get to a second can of spray.
"They were wrestling and everything was falling off the walls," Scarbrough said. "My husband is pretty tall, but she was picking him up and putting up a good fight. She was very small and petite but superhuman yesterday."
The stores owners, as well as other patrons and responding officers, were treated for exposure to mace or pepper spray.
Police arrested Bremner on suspicion of multiple felony counts of commercial burglary, as well as multiple counts of using a tear gas weapons while committing a crime.
Investigators are looking into whether Bremner is tied to similar burglaries in surrounding communities.
For the full report go here:
http://www.ocregister.com/news/bremner-314817-scarbrough-police.html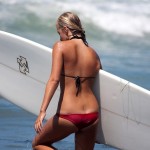 Become A Sponsor!
If you have a product or service that is a good fit for our surf community, we have opportunities for you to sponsor this blog!
Download our media kit now!