SC TIMES


This 10'4" Greg Noll with a 1-inch balsa-redwood T-band from the early 1960s restored by Danny Brawner is up for bid. Courtesy photo
Read more: San Clemente Times – Surfboard Sales to Benefit Kids with Autism
Surfboard Sales to Benefit Kids with Autism
by Andrea Swayne
Dec 07, 2011
The Ritz-Carlton Laguna Niguel is hosting the fourth annual Holiday Surfboard Auction to Benefit Surfers Healing through December 31.
The auction gives potential buyers a chance to bid on one-of-a-kind surfboards, each valuable for different reasons—either crafted by a legendary shaper, painted by a celebrity artist, ridden by a famous professional surfer or signed by TV stars.
Boards for auction include art boards by Wyland, Anthony Keidis and Robb Havassy; autographed boards ridden by Kelly Slater, Andy Irons and Greg Long; a restored 1954 balsawood Hobie and boards shaped by Greg Noll and Skip Frye, just to name a few.
Proceeds from the event will benefit Surfers Healing, an organization guided by the mission to enrich the lives of people with autism by exposing them to surfing.
Surfers Healing was founded by Israel and Danielle Paskowitz whose son Isaiah was diagnosed with autism at age 3. Like many children with autism, Isaiah often suffered from sensory overload, a symptom for which the ocean seemed to grant him a reprieve. With this in mind, Israel, a former competitive surfer, decided to try taking Isaiah surfing. As he steered from the tail of the board with his son riding up front, Israel discovered the therapeutic impact it had on Isaiah. Surfers Healing began with the Paskowitz' desire to share surfing with other children with autism and their families through beach day camps.
The auction is part of The Ritz-Carlton's Community Footprints program…
For the full article go here:
http://www.sanclementetimes.com/view/full_story/16691954/article-Surfboard-Sales-to-Benefit-Kids-with-Autism?instance=surf_headlines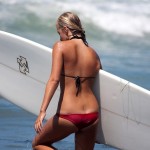 Become A Sponsor!
If you have a product or service that is a good fit for our surf community, we have opportunities for you to sponsor this blog!
Download our media kit now!