Sometimes I hate the people in our country…
VIA – HAMPTON ROADS
Va. Beach jury sides with defendant in surfers' spat
By Kristin Davis
The Virginian-Pilot
© September 30, 2011
VIRGINIA BEACH
A Circuit Court jury has decided in favor of a surfer sued by another surfer over a 2008 incident off the Oceanfront.
Harry Stoehr had accused Nathaniel B. Lundstrom of surfing without a leash or tether and injuring Stoehr with his loose board. Stoehr sought $125,000 in compensation and punitive damages.
In his lawsuit, Stoehr claimed Lundstrom "executed a turn… and intentionally pushed his board" toward him.
For the full article go here:
http://hamptonroads.com/2011/09/va-beach-jury-sides-defendant-surfers-spat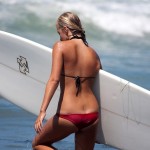 Become A Sponsor!
If you have a product or service that is a good fit for our surf community, we have opportunities for you to sponsor this blog!
Download our media kit now!