VIA – GEELONG ADVERTISER AUSTRALIA
– BIG AND BOLD: Bruce Irons rides the monster during a lay day at the Billabong Pro Tahiti. Irons was one of many professionals who flew in for the enormous waves. Photo: KIRSTIN SCHOLTZ
Surfers carve gnarly waves
AUSTRALIA'S world No.1 Joel Parkinson described the scenes at Teahupoo yesterday as the "craziest" he's ever seen during his many years coming to the powerful Tahitian break.
The surf became so dangerous, the Tahitian government issued a 'code red', blocking day eight of the Billabong Pro from starting as waves up to nine metres battered the tiny village.
"It feels like it's going to get bigger and bigger throughout the day," Parkinson said.
VIDEO: Teahupoo for the big boys
"I would hate to go out there. I was enjoying watching but that was it. I saw three or four of the most hideous wipeouts that
I've ever seen. Guaranteed, it's the craziest I've seen it."
One local surfer was taken to hospital with a suspected broken leg while others have been smashed into the reef and suffered bad cuts.
Australians Koby Abberton, Laurie Towner, Dean Morrison and Dylan Longbottom were enjoying being towed into the monsters as were Hawaiians Kalani Chapman and Vaj Lederer.
For the full story go here:
http://www.geelongadvertiser.com.au/article/2011/08/29/275805_news.html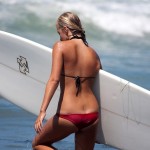 Become A Sponsor!
If you have a product or service that is a good fit for our surf community, we have opportunities for you to sponsor this blog!
Download our media kit now!