VIA – MERIMBULA NEWS

Surfers converge on Merimbula
23 Nov, 2011 09:20 AM
All systems are go for the start of the 31st annual Merimbula Classic which gets underway tomorrow.
A fleet of wave sailors, kite surfers and stand up paddle surfers are converging on Merimbula to participate in Australia's most popular celebration of wind and waves.
Kite surfer Ben Wilson is returning to his home town after kite surfing some of the biggest waves ever kite surfed at Fiji's notorious big wave spot Cloudbreaks.
SUP surfers have also had a big year competing in events in Europe and Hawaii and are eager to take honours in Merimbula.
The opening launch of the 31st event will be at 10am on Merimbula's Main Beach and over the four days competitors will spread out depending on wind and wave conditions.
A small south swell will greet competitors for the first day and there will be plenty of SUP action at main Beach.
The nor'east wind will pick up for Friday and the kites and wave sailors will have a blast on the small waves from south of the bar and down the beach.
That same north east wind will push up a north swell for Saturday and Sunday, which will see SUP surfers seeking waves on the open beaches whilst southerly winds will create good sailing and kiting conditions from Main beach to the bar.
There will be plenty of action for onlookers at Main Beach over the four days as well as the opportunity to check out all the latest gear from boards, kites, sails equipment and sportswear at the sponsors stands set up on the Ford Park adjacent to the beach.
The Balmoral Paddle Surf, Beach to Bar tag team SUP Off will be held on Saturday morning at 9am.
This is a tag-team race for stand up paddle boards where each team member has to paddle a course from Main Beach to the Bar and back again with the winning team receiving great accolades but probably not much else.
The Battle of the Paddles will be held on the Sunday morning at 9.30am and this is a relay through and 'M-shaped' course through the surf at Main beach.
With over $50,000 in prizes to be won, the action will be hot as competitors vie for a share of the prize pool plus the prestigious trophies awarded to top performers in a variety of categories…
For the full article go here:
http://www.merimbulanewsonline.com.au/news/local/sport/surfing/surfers-converge-on-merimbula/2367618.aspx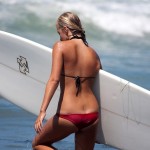 Become A Sponsor!
If you have a product or service that is a good fit for our surf community, we have opportunities for you to sponsor this blog!
Download our media kit now!