VIA – PACIFICA PATCH
At 10 a.m. today surfers and supporters of open access to Martin's Beach in Half Moon Bay will breach the barricade and access the road 'at their own risk — power to the surfer's people.'
Scores of surfers, fishermen and supporters of open access to Martin's Beach near Half Moon Bay plan to gather Thursday and bust through the gate in a show of support to gain public access to the coveted beach, just days after a lawsuit was filed against new owners who erected the gate in 2010.
Attorney Eric Buescher with Cotchett, Pitre & McCarthy said today that a group plans to meet at 10 a.m. in support of a lawsuit filed against Martin's Beach 1 and 2, LLC filed Tuesday.
The lawsuit claims that owners failed to obtain a coastal development permit for the new gates and restrictive signs that prevent the public from accessing Martin's Beach Road, in direct violation of the California Coastal Act.
Located a few miles south of Half Moon Bay, Martin's Beach is a semi-circular stretch of sandy beach surrounded by high cliffs. Prior to its sale in 2008, the area was open to the public for a small parking fee.
Led by former U.S. Rep. Pete McCloskey, Buescher, the Surfrider Foundation and surfing attorney Mark Massara, the lawsuit seeks to open the gates at Martin's Beach, allowing vehicle access.
"Some people have walked around the gate and say it's quite a hike to walk to the beach. A few surfers say you can walk a mile south and paddle up a mile to the water — but you're pretty tired once you get there and you still have to get back," Buescher said.
Five people have been arrested and cited for trespassing but the San Mateo County District Attorney's Office dropped the charges beginning in February.
"The natural resources of the state of California belong to the people of California and can't just be available to the people who can afford to buy all the property around it. You can't just buy something around a public resource and declare it yours," Buescher said.
Buescher said he hopes this can be a clean and fast process that will have the beach open to surfers come late summer.
"There are three questions we have to answer…"
For the full article and photos go here:
http://pacifica.patch.com/articles/martin-s-beach-supporters-plan-to-break-the-barrier-at-their-own-risk-power-to-the-surfer-s-people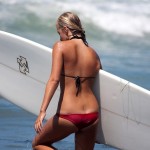 Become A Sponsor!
If you have a product or service that is a good fit for our surf community, we have opportunities for you to sponsor this blog!
Download our media kit now!