VIA – CBC CANADA
Photo: One of the surfers in the rescue stands on the overturned boat with one of the rescued fishermen.
Surfers rescue fishermen off West Coast
CBC News
Posted: Oct 17, 2011 9:17 AM PT
Last Updated: Oct 17, 2011 9:52 AM PT
Some West Coast surfers came to the rescue of three fishermen off the West Coast of Vancouver Island over the weekend after the fishermens' boat capsized in rough water.
The large waves in Port Renfrew area had also attracted a group of surfers, who immediately jumped on their boards to help out when they saw the capsized boat.
One fisherman made it back on the boat and a surfer climbed aboard to stay with him. The other surfers managed to pull the other two fishermen to shore.
Professional surfer Raph Bruhwiler says the fishermen would not have lasted long in the water on their own.
"They would have probably lost energy, got hypothermia and probably sank. And definitely there was no other boats around, so I pretty much think the surfers, and the surf boards they were holding on to, pretty much saved their lives," said Bruhwiler…
For the full article go here:
http://www.cbc.ca/news/canada/british-columbia/story/2011/10/17/bc-surfers-rescue-fishermen.html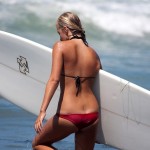 Become A Sponsor!
If you have a product or service that is a good fit for our surf community, we have opportunities for you to sponsor this blog!
Download our media kit now!