VIA – GIZMODO
Surfing a Massive 90-Foot Wave to Claim the World Record
Apparently born without a sense of fear, Garrett McNamara just broke the world record for Largest Wave Surfed by successfully navigating this 90-foot wall of watery death. The previous record—77 feet—was set by Mike Parsons in 2008. Sorry Mike.
Can we just take a moment and marvel at the fact that we have gear that can actually record this kind of insane deed—and easily! Those …
For the full article go here:
http://gizmodo.com/5857671/surfing-a-massive-90+foot-wave-to-claim-the-world-record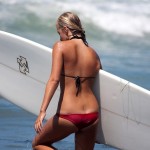 Become A Sponsor!
If you have a product or service that is a good fit for our surf community, we have opportunities for you to sponsor this blog!
Download our media kit now!