VIA – TELEGRAPH
Surfing champion Sally Fitzgibbons almost took a very different path to sporting glory
Lucas Townsend
April 01, 2012 12:00AM
Beauty and the beasts: Sally Fitzgibbons catches up with former schoolmate Brett Morris as she has a surf with him and his St George-Illawarra Dragons NRL teammates Mitch Rein and Jack De Belin at City Beach in Wollongong. Picture: Brett Costello Source: The Daily Telegraph
SALLY Fitzgibbons could have been an Olympian.
Yes, Sally Fitzgibbons – one of Australia's greatest surfing talents – was staring at a future in track and field in 2007. She had just won gold in the 800m and 1500m at the Australian Youth Olympic Festival, running fast enough to qualify for the World Youth Championships in the Czech Republic later that year.
With medals in athletics at state and national level, Fitzgibbons was a natural in and out of the water. But she faced her own internal conflict; the girl from from the surfing hamlet of Gerroa on the NSW south coast was too talented for her own good.
"I knew I wanted to be a professional athlete," Fitzgibbons says. "I knew it was going to be my job, I was going to be an Olympian.
Discipline is the key: Professional surfer Sally Fitzgibbons. Source: The Daily Telegraph
"I probably trained the hardest I ever have for that event and had that true Olympic feeling with the ceremonies and standing on that podium. To win two golds really got me thinking that this is a possibility, this could be what I want to do.''
Still, Fitzgibbons found herself in a predicament. She was making elite levels in soccer, touch football, cross-country and surfing and she is the first to admit she became her own worst enemy by juggling too many sports.
"It got to a point where sometimes I was overlooked for teams because of all my commitments," Fitzgibbons says. "I put a lot of energy to go to World Youth (Championships). I had run the qualifying times and had had an unbelievable season.
"Then two other athletes ran a little bit faster at a meet I wasn't at because I was competing in a junior surfing event and they (selectors) overruled my selection. I was so disheartened. I wanted to be there. I wanted to be running for my country."
The snub from athletics has been surfing's gain, with Fitzgibbons, now 22, one of world sport's most recognisable and marketable faces, with lucrative deals with Roxy, Red Bull and Boost mobile. She has also been runner-up on the world tour for the past two years as the new breed of girls have taken their game to unprecedented heights.
All that's missing is the world title that many have predicted for her since Fitzgibbons won five events in her first year on the Qualifying Series in 2008 to qualify for the WCT in record time.
As a pint-sized 14-year-old, she was competing against girls seven years older and became the youngest surfer to win an ASP Pro Junior event.
Over time, the dreams of becoming an Olympian were being replaced by dreams of becoming a world surfing champion as she took out the Australasian Junior Series and the International World Title in 2007 and 2008. A third-place at the Roxy Pro in February gives hope that this might be the year.
As the surfing carnival moves to the famous Bells Beach this week, Fitzgibbons is also in the unique position of being both the American and Australian Open champion after wins at Huntington last year and Manly in February.
It marks the anniversary of her first victory on the WCT Tour. It is also our showpiece event, dating back to 1973 when Michael Peterson won the first title in 1973, so "ringing the bell" holds a special place for all Australian surfers.
And growing up in the wave-rich town of Gerroa, a strip of coastline that has bred talented surfers such as Mick Lowe and Owen Wright, Fitzgibbons has made the right choice.
"To grow up there is part of who I am," Fitzgibbons says. "It was just natural to be in and around the beach. That's where everyone went. It was the playground for the entire neighbourhood.
"That love of the ocean at an early age is what has set me up for what I love now. It's different goals now. I guess at that age it's all about playing around and not really thinking that you would have a career as a surfer, bit it's definitely shaped who I am.
"Your parents would never worry. They'd just drop you down the beach with all the kids. Being such a small town, where everyone knows everyone, there's always someone watching – that safety was key."
While her love for the waves came from growing up in a sleepy surfing town, the competitive fire was stoked by trying to keep up with her three brothers.
"They are the ones I was competing against in backyard cricket and soccer – and all I wanted to do was surf as good as them," she says.
"As much as they always say, 'you've got to do better' and 'you're not as good as they all say', when it really counts they are definitely there for me. My whole family has always been right there to catch me when I fall."
And there have been the falls.
Behind the million-dollar smile there is a fierce competitor who hates to lose.
Finishing second in two consecutive years – to fellow Australian Stephanie Gilmore and Hawaii's Carissa Moore – has been tough, yet she also knows she has achieved a lot in a short career.
Each setback fuels the desire to go one better.
"It hurts so bad to lose," she says. "That desire to win most of the time is because you don't want to let yourself down or your family.
"I was picturing myself there with that title. When it slipped away … it felt like the floor had just come out from under my feet. But pretty quickly I realised I've just go to keep carrying on. I set out to win one tour event last year and I finished the season with three.
"I was far beyond those expectations, so in a way, I achieved so much and I had to be happy. It's only the beginning of my career."
The likes of Fitzgibbons, Gilmore, Moore, Tyler Wright and Laura Enever are also at the forefront of a surfing revolution.
It all started at last year's Roxy Pro on the Gold Coast, the first event of the year, when even the best male surfers stood up and took notice.
There was an athleticism and power to the moves that hadn't been seen before … it was like women's surfing had progressed 20 years in one-off-season.
"It wasn't until that event where…"
For the full article go here:
http://www.dailytelegraph.com.au/sport/more-sports/surfing-champion-sally-fitzgibbons-almost-took-a-very-different-path-to-sporting-glory/story-e6frey6i-1226315425929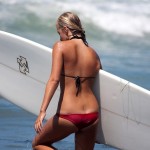 Become A Sponsor!
If you have a product or service that is a good fit for our surf community, we have opportunities for you to sponsor this blog!
Download our media kit now!