VIA – SURFERTODAY
Surfing heron takes a ride at San Clemente Pier
Tuesday, 03 April 2012 17:45
While surfing at the San Clemente Pier on Thursday, Jeff Marder rescued a black crowned night heron that was dangling under the deck of the pier, eight to 10 feet above the water, entangled in a strand of old fishing line wrapped around a wooden beam.
Marder explained that in his 35 years of surfing he had never seen anything like it, and was thankful that once the bird was examined, the heron was found to be healthy…
for the full incredible story go here!;
http://www.surfertoday.com/environment/7194-surfing-heron-takes-a-ride-at-san-clemente-pier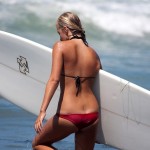 Become A Sponsor!
If you have a product or service that is a good fit for our surf community, we have opportunities for you to sponsor this blog!
Download our media kit now!