VIA – THE MERCURY AUSTRALIA
Tassie chance at monster glory
HELEN KEMPTON   |   February 08, 2012 12.01am
Tyler Hollmer-Cross surfs a monster wave at Shipstern Bluff. Picture: ANDREW CHISOLM
TASMANIAN extreme surfing is holdings its breath to find out if two local thrill-seekers landed the biggest wave in Australasian waters last year.
The winner of Surfing Life's Oakley Big Wave Awards will be announced in Sydney tonight and Tasmanians Marti Paradisis, of Clifton Beach, and Tyler Hollmer-Cross, of Dodges Ferry, are in the running.
Also in the mix are current champ Mark Matthews and a surfer who goes just by the name of Camel.
The awards, in their 10th year, celebrate the wild side of surfing far removed from the recreational mainstream and professional competition. Prizemoney of $35,000 is up for grabs.
Paradisis is a former big-wave winner and both Tasmanian surfers caught their potentially award-winning big waves at iconic Shipstern Bluff on the same trip last winter.
"I remember it being a remarkable session the biggest we have ever surfed out at Shipstern," Paradisis said from his Clifton Beach home yesterday. "It is going to be a tough call this year, with a lot of close entries."
The 28-year-old said Shipstern ranked highly as one of the best extreme-surf spots on the planet.
"A lot of the other big-wave spots around the world are very crowded," he said.
Fear is not really a factor for Paradisis. "It is like any extreme sport you work yourself up to …"
For the full article go here:
http://www.themercury.com.au/article/2012/02/08/299191_tasmania-news.html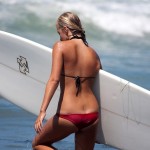 Become A Sponsor!
If you have a product or service that is a good fit for our surf community, we have opportunities for you to sponsor this blog!
Download our media kit now!