I like Bede!
VIA – THE AUSTRALIAN


Huge swell excites Durbidge
The Australian
August 25, 2011 12:00AM
AUSTRALIA's Bede Durbidge admits surfers are finding the suspense tough as Billabong Pro organisers prepare for a monster swell at the intimidating Teahupoo break in Tahiti.
A third consecutive lay day was called yesterday, as a forecast storm arrived from New Zealand, boosting expectation of an epic contest.
Forecasters predicted that a major 3m-plus swell would build, with even stronger 4m-5m waves at the weekend.
World No 8 and 2008 world title runner-up Durbidge was looking forward to the challenge, but admitted nervous tension was increasing among the world's best surfers as they waited.
"It's going to be exciting but scary at the same time," Durbidge said.
"Everyone deals with it differently. Some people are just crazy, but personally I'm just super-excited."
Some staying in houses on the beach have been warned they could be flooded by the massive seas in the coming days.
In the meantime, no stone has been left unturned by organisers as far as safety of the surfers in competition is concerned.
The Tahitian water patrol, which includes specialists brought in from the north shore of Hawaii, have continued to practise rescue drills while there is a helicopter on stand-by for any emergencies and a crack team of medical staff on the ground.
Non-essential equipment has been removed from the judging tower, which is about 500 metres out to sea, while photo scaffolds will most likely be taken down and all boat drivers have been put on high alert.
Durbidge surfed Teahupoo when it was just over three metres in 2007, the same year he won the coveted Pipeline Masters in Hawaii. "Ten-foot here is like you could drive a car through it. Sometimes you don't even get wet the barrels are that big," he said.
"It will also be 10-foot wide as well, they'll be like massive caves.
"It was definitely intimidating; it's a whole new ball game when it's that big out there, but it's a perfect wave and if you back yourself you can make it through most times.
For the full story go here:
http://www.theaustralian.com.au/news/sport/huge-swell-excites-durbidge/story-e6frg7mf-1226121551053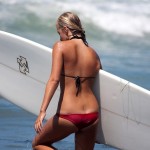 Become A Sponsor!
If you have a product or service that is a good fit for our surf community, we have opportunities for you to sponsor this blog!
Download our media kit now!