Come on Paige! Light Hayley up!!!
VIA – STUFF CO NZ

Photo: BLONDE BOMBSHELL: "Guys like to see two chicks fighting, don't they," The Crowd Goes Wild's Hayley Holt told Sunday News.
The battle of the blondes

Last updated 05:00 06/11/2011
EXCLUSIVE: It's being billed as the battle of the blondes.
Professional surfer Paige Hareb is taking on ballroom dancer and snowboarder-turned-TV reporter Hayley Holt in next month's Fight for Life charity boxing event.
The Crowd Goes Wild frontwoman Holt was aware of the interest their bout would attract.
"Guys like to see two chicks fighting, don't they," she told Sunday News yesterday, as she was training with fellow Fight for Life contestant, league hardman Monty Betham.
But it will be all business when the two pin-up girls square off at Auckland's Trusts Stadium on December 3.


Hareb, 21, singled out Holt, 30, as her opponent. The challenge apparently stems from a surfing incident last summer.
"She (Hareb) was out there with her brother," Holt recalled of her encounter with the world-ranked surfer at Raglan's Manu Bay.
"My friend and I were learning, so two muppets went out there and floundered around. I wasn't looking in the right direction and I may have cut her (Hareb) off on a wave. I don't know if that's why she called me out.
"She wanted to fight me for some reason."
Hareb jokingly joined in the pre-match war of words.
"She (Holt) seems to think she dropped in on me, so I'll have to give her payback," she laughed.
"My manager and I had talked about doing something like this for a while and it just came up. We thought of Hayley Holt to fight against.
"We wanted to try to find someone similar to me, obviously I don't want to get knocked out. We're similar size (Hareb is 165cm and 58kg) and we're both blonde so it should be a good match-up.
"Everyone is excited and interested to see what happens."
Hareb is a novice to the ring, but six weeks in a boxing gym last year developed a strong desire to give the sport a crack. She is about to return to training in her home town of New Plymouth.
Competing on the surfing world tour for the last three years, Hareb should have a fitness advantage over the taller Holt.
"I'd like to think so. It would be a bit embarrassing if I'm stuffed and Hayley's still bouncing around."
But Holt will be well prepared and conditioned. She has given up alcohol for two months of training with Betham and former women's world welterweight boxing champion Danielle Smith. She also fights cyclist Emma Ferguson in Christchurch for Kids Can a week before taking on Hareb…
For the full article go here:
http://www.stuff.co.nz/sunday-news/news/5916016/The-battle-of-the-blondes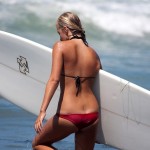 Become A Sponsor!
If you have a product or service that is a good fit for our surf community, we have opportunities for you to sponsor this blog!
Download our media kit now!