VIA – OC REGISTER
Published: Feb. 29, 2012 Updated: 5:09 p.m.
Hawaii big wave surf contest called off
No go: Organizers say waves for "The Eddie" never were big enough this season. The contest requires 20-ffot waves at Waimea Bay. Contest will start again Dec. 1.

By GARY A. WARNER / Register Travel Editor
Travelers hoping to catch "the Eddie" big wave surf contest at Waimea Bay can unpack their bags.
"Winter closed its door on the three-month holding period of the Quiksilver In Memory of Eddie Aikau big wave event today," said contest spokeswoman Jodi Wilmott.
Winner Bruce Irons surfs his 100-point, perfect score wave during the Eddie Aikau Big Wave Invitational on the North Shore of Hawaii Tuesday December 15, 2004.
KEVIN SULLIVAN, OCR; TEXT BY GARY A. WARNER, THE ORANGE COUNTY REGISTER
Even with an extra day for the contest because of leap year, the contest could not go off during its three month "holding period."
Though there was big surf over the winter, including some of the largest waves ever in early December for the nearby Pipeline Masters, the swells never consistently reached the 20-foot-plus surf at Waimea Bay required for the contest.?
The 2012-2012 contest will open on Dec. 1 and run through Feb. 28. The event is a "speciality" event for the Association of Surfing Professionals, with $98,000 in prize money.
No contest is actually the most common outcome. The contest was last held in December of 2009, when San Clemente's Greg Long charged to a come-from-behind victory over surfing icon Kelly Slater. In the 27 years of the contest, it's been held only eight times.
Aikau was a top big wave surfer and lifeguard who disappeared at sea in 1978 when he tried to paddle a surfboard from a broken Polynesian sailing canoe, Hokule'a, that had become disabled off Molokai. The others on the canoe were rescued but Aikau was never seen.?
Past champions are Denton Miyamura (Hawaii), Keone Downing (Hawaii), Clyde Aikau (Hawaii), Noah Johnson (Hawaii), Ross Clarke-Jones (Australia), Kelly Slater (USA), Bruce Irons (Hawaii), Greg Long (California)…
For full article:
http://www.ocregister.com/travel/hawaii-342557-contest-big.html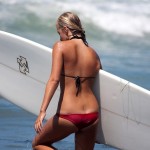 Become A Sponsor!
If you have a product or service that is a good fit for our surf community, we have opportunities for you to sponsor this blog!
Download our media kit now!