VIA – MIRROR UK
The incredible real-life story behind Gerard Butler's new surf movie
Gerard Butler filming Of Men and Mavericks (Pic: Splashnews.com)Arms outstretched and perfectly poised, a tiny ­figure rides a wave as tall as a five-storey building.
Surf hero Jay Moriarity took on the might of the Pacific… and won.
His feat him famous. But just a few years later Jay was dead after drowning off the Maldives.
Today the unforgettable ride, nicknamed the Iron Cross, is how he is best remembered.
But that could soon change with the release this year of a Hollywood film about his short but inspirational life.
Filming has just finished Of Men And Mavericks, starring Gerard Butler, around the boardwalks and beaches of Santa Cruz, the Californian surfers' paradise where Jay is worshipped.
Thousands gather there for an ­annual paddleboard race in his ­memory while the most popular bumper sticker on cars cruising its streets is the slogan he ­inspired: "Live Like Jay!" That photo is posted everywhere.
It's a legacy that has been fiercely protected by Jay's widow Kim, who married him less than a year before his death in 2001.
She has always turned away film producers… until now.
"I went through hard times and I wanted to make sure I was in the right frame of mind to look out for Jay's interests," she has said.
"In many ways he never did leave us, he's still here. He's watching over us, I'm sure about that.
"I'm sure that he has been looking down on this movie and he's taken a big hand in it from the beginning."
Surfer Jay Moriarity
Big-wave rider Jay surfed the Mavericks, the breakers up to 50ft high that crash along the Santa Cruz ­coast in winter.
He was just 16 and working part-time in a pizza parlour when ­photographer Bob Barbour took a shot that made him famous.
It made the front page of Surfer magazine and he became a hero to surfers around the world.
Then, the day before his 23rd ­birthday, the sea he loved claimed his life. Ironically he wasn't surfing.
Jay drowned off the Maldives while free-diving, staying on the seabed without oxygen to practise his ­breathing techniques.
Kim brought his body home and scattered his ashes in the waves he worshipped as hundreds of surfers formed a vast circle of boards.
As film-makers recreated the ­amazing life story, Scots-born star Gerard, 42, who plays Jay's trainer Rick "Frosty" Hessen, got a chilling ­reminder of the sea's lethal power.
Swimming out to film a scene he was battered through rocks by a series of waves and held underwater for almost a minute as rescuers on jetskis raced ­towards him.
Gerard, barely conscious, was dragged out of the water and had to spend a night in ­hospital.
He says: "It was a pretty close call. These waves came out of ­nowhere.
"I was with three of the best surfers in the world and they were shouting, 'Paddle, Gerry, ­paddle!'. But this wave spread across the skyline, 30ft high, and just dived on us and it took me. It ripped off my safety leash so there was nothing to pull me back up. I was just tumbling, tumbling, ­tumbling… going, going. I was thinking, 'I need to get up!'. Then I felt the next wave hit and it all started again.
"I had a few hairy ­experiences in ­training. I got out of my depth and sometimes I was under water for 10 or 15 seconds, but this time, I was ­under for nearly a minute."
Of Men and Mavericks follows the relationship between Frosty and hiseager young pupil Jay, played by ­newcomer Jonny ­Weston.
After Frosty agreed to train him he made Jay write his life philosophies. The title of one essay was prophetic: "What would I do if I was going to die ­tomorrow?"
Whatever Jay's answer, the way he lived touched the lives of hundreds of surfers, many of them inspired by that iconic image of him riding the Mavericks.
Photographer Bob, 61, recalls: "The picture was not just sheer chance. Jay was out to prove himself that day. The waves were big and he was going for it. He wasn't reckless, he was ­supremely skilful. He knew what he wanted to do and was ­determined to achieve it. When you look at him there, at the top of the wave, you see so much grace.
"In fact it wasn't so much a natural ­talent with Jay, he ­really had to work hard at it. He was dedicated, totally.
"If he said he would see you on the beach at 7am, he'd be there at 6.30 and he'd stay until the job was done."
Bob adds: "I've worked with hundreds of surfers. I know what their egos can be like. Jay was different. He was the best but he treated everyone as his equals. There was always a friendly warmth in his eyes.
"I guess it's difficult for people outside the community to realise how there's a special bond between surfers.
"It's built out of a respect for the ocean, and for the way each one takes on the challenges.
"Surfers understand one another and why they do it. So the loss of someone like Jay really touched everyone's hearts in this neighbourhood. If he had died on a big wave rather than out training, maybe that might have been easier to accept."
When Jay died, he and Kim's first ­wedding ­anniversary was approaching. But they were ­childhood sweethearts and had been together as a couple for years.
A decade on from his death, Kim, 34, has moved back to Santa Cruz and is due to remarry this year.
But Jay's memory is, not surprisingly, still very precious and vivid.
"Sometimes I'm overwhelmed with a feeling that he's close by. I keep his ­image near to my heart," she has said. "I was just numb after he was gone. I was ­upside down, turned around in the dark.
"I watched him grow into what he ­became. Being a big-wave rider is really very cool and people idolised him.
"But meeting him on the street you would never know that. He would treat you like you were his brother or sister. He had no ego. He was just incredibly real in a world that's so fake…"
For the full article go here:
http://www.mirror.co.uk/life-style/real-life/2012/01/29/the-incredible-real-life-story-behind-gerard-butler-s-new-surf-movie-115875-23724345/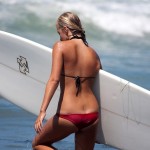 Become A Sponsor!
If you have a product or service that is a good fit for our surf community, we have opportunities for you to sponsor this blog!
Download our media kit now!