VIA – SANTACRUZ.COM


Photo: Jonny Craft at his home break of Carmel. Photo by Dave Nelson (Nelly).
The New Santa Cruz Shredders
Five hot young surf talents to watch for at the Coldwater Classic and beyond
By Matt Skenazy Wed, Oct 19, 2011
The Coldwater Classic is Santa Cruz's biggest surf contest of the year. Each fall an international contingent of surfers descend on the town to show off their talent, earn a few ratings points and, if all goes as they want it to, take home a bit of Jack O'Neill's sweet prize money. Surfers packing international fame and six-figure contracts have been known to show up, names that are all too familiar to the average surfing fan: Jordy Smith, Joel Parkinson, Bobby Martinez and Adriano de Souza, to name a few.
But our local surfers are a proud and talented bunch, and they don't just roll over for the visitors. In fact, we have a history of one of our own hoisting the check at the end of the event: Anthony Ruffo (1985), Peter Mel (1997), Chris Gallagher (1998 and 1999), Adam Replogle (2002), Kieran Horn (2003) and—most recently—Nat Young (2008) have all taken top honors at the home break's biggest shindig. And there are many more that have made dents in visitors' egos: Randy Bonds, Jason "Ratboy" Collins, Darryl "Flea" Virostko, Tyler Fox, Tyler Smith, Homer Henard, Josh Loya…the list is so long that naming them all would dilute the impact that each one is capable of exerting in a heat. Suffice it to say that any local who suits up has a chance of winning. The wave is tricky and variable, depending on the tide, the wind and the swell direction. Few events in the world have such a history of local prowess amidst the onslaught of visiting pros. Ours is and remains a locals event.
This year the CWC, which runs Oct. 26-31, is a PRIME event with a prize purse of $250,000. What does that mean? It means there will be more competition than ever for the top spot. It means more than a dozen of the top guys in the world— including Gabriel Medina, 17, of Brazil and Julian Wilson, 22, of Australia, the two young finalists from the recent World Tour event on the southwest coast of France—paddling into the Lane for a chance at the title. To put it simply, this could be one of the hardest years ever for a local to win it all.
Now, I know that was a lot of names and rankings and dates. Below are five Santa Cruz surfers to watch this year and in the years to come. You could call them up-and-coming, but really they've already arrived.
Nat Young
The Pride of the Westside. O'Neill's homegrown golden child. Young's past four years read like a wish list for any junior surfer from Santa Cruz: In 2007 he won the Oakley Pro Junior event that runs in conjunction with the Coldwater. In 2008, as a 17-year-old, he won the main event, catapulting himself to international surf stardom. In 2009 he again won the Oakley Pro Junior. Last year he made it to the semifinals of the main event before losing to eventual champion Matt Wilkinson.
Success has its downside. With the victories came the pressure to repeat his 2008 title. "I felt so much pressure that I lost in my first heat," Young says of his 2009 Coldwater Classic bid.
These days he spends his time living out of a suitcase, traveling from country to country, battling it out on the contest circuit and free surfing for photographers. In the last year he's been to Australia, Brazil, New Zealand, Mexico, Peru, Bali, Greece, Portugal, Ireland, South Africa and the Azores. All in all he spends about three quarters of the year on the road and hopes to make the World Tour by the middle of next year.
With all this time spent jet–setting from one time zone to the next, does he still have the desire to repeat? Do Santa Cruz's waves still tempt him? Yes and yes.
"I would be stoked to get a re-match [with Wilkinson]," Young says. "I've had a pretty bad year this year, and I feel like I'm due for a big result."
Jonny Craft
Craft is not from Santa Cruz. He's from Carmel. He'll be the first to tell you that he is not a "local" at this event or at the Lane. "I love watching the Santa Cruz boys take out some of the best surfers in the world," Craft says. For our purposes, however, we'll count him as one of our own. After all, on a clear day you can see Carmel from the Lane.
Craft has been in the event for the previous four years. Last year he went all the way from the local trials to an equal fifth place, no easy feat in a contest where many consider the local trials to be more difficult than the main event. Currently he lives in San Clemente, home to the major surf magazines and surf brands, hoping to make it as a professional. Craft points to Nat Young and Jason "Ratboy" Collins as his two top local picks to do well this year.
Bud Freitas
Born and bred at Pleasure Point, Bud Freitas has been surfing in the Coldwater for over a decade, and he's only 27. In 2008 Freitas rampaged his way to the semifinals, his best ever result, before finally losing steam.
Freitas hasn't been surfing many contests this year—he's likely been spending a lot of time teaching at the surf school he owns, Surf School Santa Cruz—and he doesn't surf the Lane often (why drive all the way across town when you live right on Pleasure Point?). But with powerful rail-to-rail surfing, he's always a force to be reckoned with.
"I'd love to win the thing, but all of the top guys are going to be here, so it's going to be a challenge," Freitas says. "I hope someone from Santa Cruz makes the final so at least there's some kind of love in town. The whole town gets so amped when the locals are going nuts and making heats."
Nic Lamb
When those in the surf industry think of the Westside of Santa Cruz they think of big wave surfers, of guys that winter at Mavericks and summer at the massive Mexican beach break Puerto Escondido, of guys like Flea and Anthony Tashnick. Lamb is the heir to the big wave throne in Santa Cruz. Whether he's paddling out in the dark to catch a few waves before the Mavericks contest starts or towing into scary Tasmanian surf, Lamb consistently shows well whenever the buoys start hitting the 20-foot range. Perhaps because of his big wave prowess, it is consistently overlooked how good a technical, small wave surfer he is as well.
Lamb and Young are the only true Steamer Lane locals on this list—they have both been surfing there since they could walk—but Lamb has yet to make a solid push through more than a handful of heats at the Coldwater. If Lamb decides to show his contest surfing the same dedication that he shows in big waves, it's only a matter of time before he starts making an impact.
For the full story go here:
http://news.santacruz.com/2011/10/19/the_new_santa_cruz_shredders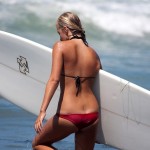 Become A Sponsor!
If you have a product or service that is a good fit for our surf community, we have opportunities for you to sponsor this blog!
Download our media kit now!