VIA – INDEPENDENT
The Science of Surf
Wave Prediction Data Gathered in WWII Revolutionized the Sport of Surfing
Friday, April 20, 2012
On a clear Sunday afternoon, in the Moby Dick restaurant atop Stearns Wharf, Peter Neushal — a lecturer in UCSB's History Department — talked to an audience about how the study of waves revolutionized the sport of surfing.
According to Neushal, interest in predicting the behavior of waves long predated the desire to find where the best surf was rolling in. During World War II, the United States faced many challenges in successfully executing their amphibious assaults on European coastlines, as well as in operations during the Pacific Campaign. Of particular importance to this effort were the oceanographers Taylor Munk from Austria, and Harald Sverdrup from Norway. Together they developed sophisticated methods and strategies to measure waves and predict when and where they would be.
Due to the irregular shape of the landing craft soldiers invaded beaches with — they were flat-bottomed and, instead of a normal bow, often had front ramps capable of being lowered —disagreeable wave conditions could lead to disastrous effects. "With big waves, everyone dies," said Neushal. During the Pacific Campaign, when US soldiers had to navigate the coral reefs at Peleliu, Munk, and Sverdrup, the need for aerial and coastal data arose so invasions could be timed properly…
for the full article go here: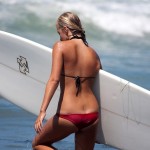 Become A Sponsor!
If you have a product or service that is a good fit for our surf community, we have opportunities for you to sponsor this blog!
Download our media kit now!