VIA – ZME SCIENCE
The Shorebreak Art of Clark Little: amazing photos from inside the wave
– Mon, Nov 14, 2011
VShorebreak waves are massive waves that break very close to the shore. Clark Little grew up on the north shore of the Hawaiian island Oahu, and has been riding these kind of waves for the past 30 years. Recently, he decided to show to the world what shorebreaking is all about, after he started taking his waterproof camera in his watersports exploits. He started getting good at it, really good. His work has been published in numerous high-profile magazines, and recently enough Little also released a high successful photo-book, titled "The Shorebreak Art of Clark Little", which features mesmerizing footage of waves.
For all the photos and the full article go here:
http://www.zmescience.com/other/great-pics/the-shorebreak-art-of-clark-little-amazing-photos-from-inside-the-wave/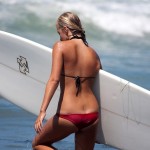 Become A Sponsor!
If you have a product or service that is a good fit for our surf community, we have opportunities for you to sponsor this blog!
Download our media kit now!