VIA – CARE2
The Surf Culture: Green or Greenwash?
by Nicole Parisi-Smith
December 6, 2011
4:15 am


According to the Surf Industry Manufacturers Association surfboard, skateboard and other hard good accessory sale numbers increased by 35% in 2010. Along with surf industry growth growth comes increased impact on the environment – from foam surfboards and oil-derived neoprene wetsuits to surf destination transportation. This graphic illustrates some of those environmental impacts.

INFO GRAPHIC COURTESY OF: www.greensurfshop.com
Yet for all of those environmental impacts, a growing number of surfers, ocean enthusiasts, and industry professionals are creating companies, products, organizations, and communities that decrease the surfing community's environmental footprint. One of my favorite companies is Grain Surfboards. The company is committed to building, promoting, and riding beautiful, hand-crafted, wood surfboards that have less impact on the environment.
I have been a member of the Surfrider Foundation since attending my first organized beach cleanup in 2005. Founded in 1984 by three Southern California surfers, the grassroots organization is dedicated to the protection and enjoyment of the world's oceans, waves, and beaches. Surfrider members aren't all surfers, but many of us have strong personal connections to the places where we play.
Surfrider Foundation member Jaimal Yogis, author of the book "Salt Water Buddha: A Surfer's Quest to Find Zen on the Sea," shared his story in this blog post. Excerpt:
By my third trip to Bali, I was starting to feel the guilt. Watching yet another set of condos go up right above Padang Padang, more plastics in the line-up, another 200 surf billboards spackled around Kuta, more drunken Balinese kids mimicking the styles they saw in surf mags, I started wondering: are surfers ruining one of the most beautiful islands on earth?
Jaimal is now a spokesperson for the nonprofit organization Surf For Life, founded in 2008 by Alex Fang. The organization's mission is to channel the interest and energy of individual surfers into teams that travel internationally to various project sites where they serve as hands-on volunteers. The idea for the nonprofit WAVES for Development came about as a result of a 2004 surf trip to northern Peru. WAVES' coastal community education and surf voluntourism programs develop youth into healthy and empowered adults and transform travelers' views of the world and themselves.
For the full article go here:
http://www.care2.com/causes/the-surf-culture-green-or-greenwash.html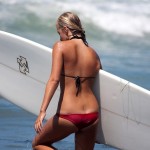 Become A Sponsor!
If you have a product or service that is a good fit for our surf community, we have opportunities for you to sponsor this blog!
Download our media kit now!