VIA – SMH
March 8, 2013 – 12:03PM
Sharks swarm Florida beaches
Authorities close a stretch of beach in Florida as thousands of migrating blacktip sharks come close to shore
Thousands of sharks on their northern migration came disturbingly close to Florida's Palm Beach County beaches this week, leading to several closures but no reports of bites.
Lifeguards ordered swimmers out of the water on Thursday at Ocean Inlet Park, just south of the Boynton Beach Inlet. Temporary closures went into effect earlier in the week at Ocean Reef on Singer Island, Gulf Stream Park and South Inlet Park.
Ocean Rescue's Brian McManus said the Ocean Inlet beach was closed after five sharks came within three or four metres of shore and many more were spotted farther out. Such closures are issued at the discretion of the lifeguards on the scene, said Dave Lill, the county's aquatics director.
"When you start seeing fins in the water and they come closer to the beach, you're whistling, getting people out of the water and putting up the double red flags," he said.
The seasonal migration takes place twice a year, as blacktip sharks follow mullet and other prey from the region of Cape Hatteras, North Carolina, to Broward County or northern Miami-Dade County.
Stephen Kajiura, associate professor of biology at Florida Atlantic University, who studies the shark migrations, said they began late this year because of the unusually warm winter. He said the sharks should be gone within the next two weeks or so.
Blacktips, which reach a maximum length of about 1.8 metres, account for 20 per cent of the unprovoked shark attacks in Florida, tying with bull sharks for the most attacks, according to the International Shark Attack File at the Florida Museum of Natural History.
Blacktips generally eat fish about a foot long and have no ambitions to consume anything as large as a person, said George Burgess, the International Shark Attack File's director. Their attacks tend to be cases of mistaking a hand for a fish in murky water.
"While these species don't normally go after human beings as a food item, these are the species we usually see in the hit-and-run bites that characterize Florida shark attacks through the year," he said. "If these guys are in the surf zone when people are swimming, it's probably a prudent move to keep people out of the water."
MCT
For the original post and video go here: http://www.smh.com.au/travel/travel-news/thousands-of-sharks-invade-floridas-beaches-20130308-2fps1.html#ixzz2Mw76Iq9d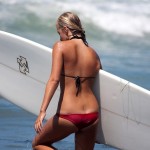 Become A Sponsor!
If you have a product or service that is a good fit for our surf community, we have opportunities for you to sponsor this blog!
Download our media kit now!