Horrible…
VIA – JOURNAL ONLINE
New Smyrna Beach man killed in surfing accident
By DINAH VOYLES PULVER, ENVIRONMENT WRITER send an email to [email protected]@news-jrnl.com
August 27, 2011 1:52 PM
Posted in:
A New Smyrna Beach surfer was killed this morning in a surfing accident just after 11 a.m..
Tammy Marris, spokeswoman for the Volusia County Beach Patrol, said the surfer was in the water near the 1000 North block of State Road A1A when he suffered a head laceration.
"It appears at this time that it was a death from trauma," Marris said. "It appears he went over a wave and might have gone head first into the ground."
The surfer's friends brought him out of the waves to the shore, but he had no vitals and wasn't breathing, Marris said. The surfer was pronounced dead just after noon.
Surfers flocked to the beach today, Marris said and the Hurricane Irene-related waves were "phenomenal" this morning along the Volusia Coast. The waves were 5 – 7 feet, she said, and 8 – 10 foot wave sets were rolling into Ponce de Leon Inlet.
Meanwhile, another surfer or swimmer was treated on scene in Ormond Beach for a spinal injury and a toll taker on the beach in New Smyrna Beach was taken to Bert Fish Medical Center for breathing troubles that may have been heat-related, Marris said.
Dangerous heat levels are being recorded throughout the area, with the heat index topping 110 in some locations.
At 1 p.m., the heat index at Daytona Beach International Airport was 111.4. The temperature was 95, but the relative humidity was 58 percent. Heat index values are expected to range from 105 to 110 throughout the area.
http://www.news-journalonline.com/breakingnews/2011/08/new-smyrna-beach-man-killed-in-surfing-accident.html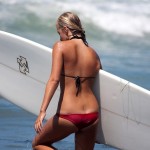 Become A Sponsor!
If you have a product or service that is a good fit for our surf community, we have opportunities for you to sponsor this blog!
Download our media kit now!