VIA – SUN SENTINEL

Up to 15-foot waves expected this weekend in South Florida
Weather system off the Carolinas sending high swells toward South Florida
By David Fleshler, Sun Sentinel
4:40 p.m. EDT, November 4, 2011
Waves towering up to 15 feet will rake South Florida beaches this weekend, creating dangerous rip currents and threatening to tear more sand from eroded shorelines.
An unusual combination of factors — a low-pressure system off the Carolinas and strong local winds — is expected to raise breakers to a size seen more frequently in Hawaii or California, according to the National Weather Service.
"We're going to see some pretty rough surf," meteorologist Robert Molleda said. "It's not going to be a good weekend to be in the water."
The highest waves, possibly up to 15 feet, will strike the Palm Beach County coast. Broward and Miami-Dade counties could see waves of up to 10 feet, the weather service said. Although dangerous rip currents were anticipated to begin as early as Friday, conditions were expected to get rougher Saturday, with the worst arriving Sunday through early Monday.
"We've been forewarned, and we're expecting high surf," Fort Lauderdale Ocean Rescue Chief Breck Ballou said.
James Scala, ocean rescue superintendent for Delray Beach, said beaches will remain open but may be closed if lifeguards find themselves making an unusual number of rescues. "There's always a supervisor on the beach who will make that call," he said.
Although rare, waves this size are not unheard of in South Florida, he said.
"It's not terribly common, but we get it," he said. "The whole staff trains for these kind of conditions."
The waves will crash onto the sand during a deceptively pleasant few days, with sunny skies and fair weather making the weekend seem like an ideal one for the beach.
The low-pressure system off the Carolinas is sending strong winds across a long swath of open ocean, building up the swells heading toward Florida's east coast, Molleda said. Meanwhile, local winds of more than 20 miles an hour will whip the waves higher.
"We have rather high confidence that a large swell event will result in potentially significant beach erosion, minor coastal flooding, high surf and dangerous rip currents this weekend," the weather service on Friday morning told South Florida public safety officials.
These conditions were likely to persist through midday Monday before gradually diminishing.
The waves could rip significant quantities of sand from South Florida's perpetually eroding beaches, where taxpayers have spent millions to shore them up with additional sand.
Leanne Welch, Palm Beach County's supervisor for beach protection, said erosion can take place over years or can happen overnight. If the weekend's waves rip sand off the beaches, however, it will still remain offshore and within the system, accreting back onto the beach as winds die down…
For the full surf report go here:
http://www.sun-sentinel.com/news/palm-beach/fl-high-waves-20111104,0,1430317.story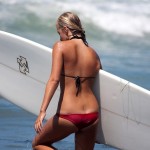 Become A Sponsor!
If you have a product or service that is a good fit for our surf community, we have opportunities for you to sponsor this blog!
Download our media kit now!