VIA – CHILLAWACK TIMES
UPDATE: 12-foot sturgeon caught near Chilliwack close to record
Dean Werk, president of Great River Fishing Adventures, Margaret and Michael Snell hold their 12-foot four-inch sturgeon.
Photograph by: submitted , for the TIMES
An English tourist fishing near Chilliwack has reeled in one of the largest sturgeons caught on the Fraser River in recent memory.
Sixty-five-year-old Michael Snell from Salisbury, England, hauled in a 12-foot-four-inch-long white sturgeon on July 16. The fish is estimated to weight around 1,100 pounds.
Snell, along with wife Margaret, were fishing the Fraser with guide Dean Werk, of Great River Fishing Adventures, when they hooked the massive fish.
Even for a veteran fisherman like Werk, the size of the sturgeon was a shock.
"It really was amazing," he told the Times Friday.
On a video taken from the boat as Snell is reeling in the fish, Werk can be heard estimating the fish's length at eight feet and its weight at several hundred pounds.
But some 90 minutes later, when the fish was brought to shore, the sturgeon turned out to be much bigger, with a 53-inch girth measured below the pectoral fins.
"I've been a professional fishing guide on the Fraser for 25 years and I've never seen a sturgeon this big," Werk said in a press release.
The fish had not been tagged before Monday. After Snell reeled it in, Werk applied a PITT tag, which will mean the FRSCS will be notified if the fish has been caught again. It will then be able to track the fish's growth and movement
Sarah Schreier, the executive director of the Fraser River Sturgeon Conservation Society (FRSCS), said the largest sturgeon caught in recent years measured 13 feet.
At the turn of the previous century, Schreier said fishermen caught sturgeon weighing up to 20 feet long.
Schreier said the program has a 58-to-60 per cent recapture rate. But some fish are caught rarely, if at all. As an "apex species," Schreier said the ongoing survival of the white sturgeon vital to the health of the Fraser.
"It's a special species," she said.
Werk says he and his clients have probably hooked fish even bigger than the one caught last week. But reeling them in is virtually impossible.
"It's almost unheard of," he said Friday, estimating that fishermen and women lose the fight 98 per cent of the time.
"Michael really bared down on that fish, and he stayed on top of it," said Werk, who has seen anglers battle sturgeon for three to five hours before losing their catch. "It's a miracle . . . it's an Olympic moment."
The fish's size is an indication that it may be more than a century old, according to Werk.
"This tells us this dinosaur fish hasn't been caught in at least 18 years if ever at all. I'd bet she's over 100 years old," he said. "It may have never seen a human being before."
Snell first fished the Fraser in 2009, when he caught a five-foot sturgeon. But he wasn't prepared for the fish he caught Monday.
"It is the most excitement I've ever had with a fish. It all…
Read more: http://www.chilliwacktimes.com/UPDATE+foot+sturgeon+caught+near+Chilliwack+close+record/6965415/story.html#ixzz21E3NBiCm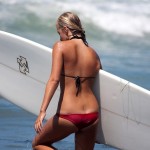 Become A Sponsor!
If you have a product or service that is a good fit for our surf community, we have opportunities for you to sponsor this blog!
Download our media kit now!