Lt. John Everhart of San Diego Lifeguard Services briefs reporters on the case Thursday. View more videos at: http://nbcsandiego.com.
By M. Alex Johnson, staff writer, NBC News
A naked surfer washed up dead near a San Diego beach early Thursday with wounds consistent with a shark attack, authorities said.
The 42-year-old man, who wasn't further identified because his family hadn't been notified, appeared to have been attacked after he died under other unusual circumstances in the water — possibly suicide — said Lt. John Everhart of San Diego Lifeguard Services, who cited a preliminary medical examiner's report.
---
No shark sightings had been reported in the area, and officials didn't say what type of shark might have attacked the man. Everhart told reporters the body was found in shallow water about 250 yards from shore about 3:35 a.m. (6:35 a.m. ET) near Tourmaline Beach.
"There were wounds on the body and trauma on the body," Everhart said. "The medical examiner has indicated that the wounds are consistent with what they would expect from a shark attack."
NBC San Diego: Shark wounds found on surfer's body
Police, fire rescue crews and the Coast Guard had been searching for the man since he was reported missing Wednesday night by his fiancée, Everhart said.
Beyond the alarming prospect of a human-eating shark prowling the San Diego coast, other unusual factors raised questions about the case. Everhart said the man may have had an unknown medical condition or may even have set out to kill himself.
The man was naked, and there were no signs of a struggle, authorities said. His wetsuit had been carefully tied around the surfboard; neither the wetsuit nor the board showed any signs of damage when they were found well offshore.
Everhart called it odd "that someone would take their wetsuit off while they're out at sea and then tie it around their surfboard and then disappear."
"I've never seen anything like it," he said.
Tommy Calagna of Pacific Beach told NBC San Diego that he and his girlfriend saw the man sitting on his board several hundred yards out in the surf Wednesday evening — "really, really far out there, like double the distance of where the other surfers were at the time."
Calagna, a veteran surfer, agreed that it was highly unusual that a surfer would take off his wetsuit before coming out of the water.
Follow M. Alex Johnson on Twitter and Facebook.
For the original post and video go here:
http://usnews.nbcnews.com/_news/2013/05/09/18150785-dead-naked-surfer-with-apparent-shark-attack-wounds-washes-up-near-san-diego-beach?lite
UPDATE:
Shark Wounds Found on Surfer's Body
Strange findings — such as the srufer's wetsuit tied to his board — are complicating the investigation
|  Friday, May 10, 2013  |  Updated 9:07 PM PDT
As officials confirmed a body discovered near Tourmaline Beach was that of a missing surfer Thursday morning, lifeguards revealed the man's body had wounds consistent with a shark attack.
The surfer was the subject of a search in the waters of Tourmaline Surf Park in the 5100 block of La Jolla Boulevard Wednesday night.
At approximately 10 p.m., San Diego police received a missing person report from a woman who said her fiancé had gone surfing and hadn't returned.
Around 3:35 a.m., the 42-year-old man was found lying in the kelp at the waterline near Tourmaline Beach, several hundred yards from where the search was initiated, lifeguards said.
When the body was recovered, there were wounds and trauma on the body that are consistent with what medical examiners would expect from a shark attack, according to San Diego Lifeguards Lt. John Everhart.
He said initial evidence indicates the attack may have happened after death.
"The thought is the person drowned in the waters off PB and then some time after that event, was the shark attack incident," Everhart said.

Shark expert Andy Nosal, Ph.D. agreed, saying the victim looked as though he died from drowning and was bitten postmortem, possible by a sevengill shark.
Officials are not sure why the man may have been submerged in the water. Hypothermia, ocean conditions, an unrelated medical condition, accidental drowning or suicide are all possible, Everhart said.
Officials say some unusual findings are complicating the investigation.
For instance, witnesses reported seeing the surfer paddle boarding on his knees, and then disappearing into the water without any struggle.
Officials say the man's truck was also found in a nearby beach area with the doors unlocked and keys in the ignition. His wetsuit – which he had been wearing earlier – had been taken off and tied around his surfboard.
Lifeguards say this is an unusual case in that the man took his wetsuit off while he was out in the water and tied it around his surf board "in a very purposeful manner." There were no signs of struggle. No damage was done to the surfboard or the wetsuit, lifeguards said.
"That someone would take their wet suit off while they're out at sea, and then tie it around their surf board and then disappear — I've never seen anything like it," said Lt. Everhart, a 29-year lifeguard veteran.
The surf board was found in the water, approximately 250 yards out from the shore.
The county's medical examiner will investigate further and release a cause of death.
Officials searched the area from the shore and by boat overnight. A San Diego Fire-Rescue helicopter also helped in the search.
One surfer said he noticed something unusual off shore when he saw a surfer very far out in the water.
"He was really, really far out there. Like double the distance of where the other surfers were at the time," said surfer Tommy Calagna.
Calagna said soon after, he lost sight of the man.
He said when a surfer goes out with his wetsuit, he usually doesn't take it off until he comes in.
Surfer Neil Ratnavira said he also saw the surfer in the water Wednesday night.
"He was having a rough time paddling out there because it was choppy and windy, but no indication he was out there to take his own life," recalled Ratnavira.
Surfer Sarah Goltz heard about the man's death and agreed that taking off a wet suit was hard enough.
"I don't know, it doesn't make any sense, you don't take your wetsuit off in the water," Goltz said.
Ed Noble said he has noticed surfers along this section of the coast care about each other and look out for each other.
"People just care and they're wondering who it is," Noble said. "It's a tragedy. A young man, 42-year-old guy loses his life."
Officials hope to find some answers about the surfer's death Friday after an autopsy is performed.
On Friday night, an updated report released by the county medical examiner's office determined the surfer's cause of death to be drowning. The report identified the surfer as San Diego resident Brandon Beaver, 42.
For the original post go here:
Source: http://www.nbcsandiego.com/news/local/Lifeguards-Search-for-Missing-Swimmer-Pacific-Beach-206704891.html#ixzz2Sy3tj5Nc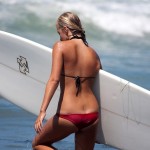 Become A Sponsor!
If you have a product or service that is a good fit for our surf community, we have opportunities for you to sponsor this blog!
Download our media kit now!