Not linked??? Rip currents wouldn't have been that strong if not for Irene, would this dude even be in the water without the swell? Ahole reporter…
VIA – RICHMOND TIMES DIPATCH
UPDATE: Drowning of surfer not linked to Irene
By: Rex Springston
Published: August 27, 2011
Updated: August 27, 2011 – 11:24 AM
A 22-year-old surfer drowned in a rip current off the Virginia Beach coast on Thursday, but the death is not being linked to Hurricane Irene.
Lyle Alexander, a National Weather Service meteorologist, said Irene probably contributed to the dangerous water conditions. But state officials said the death could not be attributed to the storm.
The drowning occurred early Thursday evening near the Beach's Croatan area, the weather service said.
An identification and further information was not immediately available.
http://www2.timesdispatch.com/weather/2011/aug/27/4/drowning-surfer-linked-irene-ar-1268123/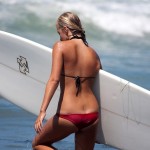 Become A Sponsor!
If you have a product or service that is a good fit for our surf community, we have opportunities for you to sponsor this blog!
Download our media kit now!