VIA – WLTX


Katia Downgraded to a Tropical Storm
5:04 PM, Sep 3, 2011
(WLTX) – Katia is now an intense tropical storm, having lost its hurricane status after encountering unfavorable conditions for the last day.
As of the 5 p.m. Saturday advisory, Katia had maximum sustained winds of 70 miles an hour. To be a hurricane, a storm must have winds of 74 miles an hour or greater.
It was moving to the northwest at 10 miles an hour.
Currently, upper-level shearing winds are making it tough for Katia to grow in intensity. These winds will likely persist until Sunday, so no significant change in wind speed would happen until at least then.
As for the potential of a strike along U.S.–and in particular, South Carolina–that remains unclear. Overnight, the forecast models shifted a little to the north, which would be good for the East Coast.
Those computer simulations are trying to account for a subtropical ridge in the Atlantic. Some of the models show the ridge as weak, while others have it stronger.
What changes in either scenario? The weaker the ridge, the current belief is, the more northward–and away from land–Katia goes. If the ridge stays strong, however, Katia moves more westward, and the Southeast could face a more serious threat.
Models will also try to account for the potential impact of Tropical Storm Lee in the Gulf of Mexico.
Lee is expected to push into Louisiana Sunday, and then sit over the Mississipi River area for about two days. With this system, damaging winds are not the concern; instead, Lee will be a major rainmaker, and could potentially dump a foot of rain on some parts of that region.
Louisiana Governor Bobby Jindal has already declared a state of emergency.
Lee could absorb the energy of an approaching front moving into the Southeast, a system which would likely have deflected Katia's path back into the Atlantic.
Regardless of what happens, a potential landfall would likely not happen until a week from now.
Computer modeling will likely change significantly over the next several days, and people are advised to keep watching for the latest updates on the system.
For the full report go here:
http://www.wltx.com/news/article/149771/2/Katia-Downgraded-to-a-Tropical-Storm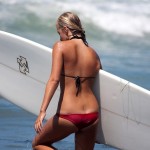 Become A Sponsor!
If you have a product or service that is a good fit for our surf community, we have opportunities for you to sponsor this blog!
Download our media kit now!