VIA – ESPN
Slater gets wave pool patent
Updated: November 25, 2011, 12:56 PM ET
By Alex Lemonde-Gray
ESPN.com
Coming right on the heels of his record-breaking eleventh world title, Kelly Slater has tallied yet another victory, this time though he's not hoisting a shiny trophy but a rivalry-igniting patent.
In 2008, Slater launched the Kelly Slater Wave Company with the goal of "making a world-class surfing experience accessible to the sport's enthusiasts across the globe." Historically, past wave pools have failed to re-create the conditions surfers' desire. Slater, however, promised that his company could create "ocean-type waves" for surfers of any skill level.
On Oct. 24 CBS News aired a 6-minute segment with Slater, which included a visit to the KSWC's California-based scale-model testing facility. This was quickly followed by a promotional KSWC video (above), released days before the surfer earned his 11th ASP World Title, in which Slater claims: "This is the future. This is the wave I've been dreaming of my whole life."
Despite the media attention, Slater's wave making venture seemed to reach an impasse when the U.S. Patent and Trademark Office rejected his patent application, first filed in 2008, three times. Australian Greg Webber, best known for his eponymous surfboard company that once sponsored Taj Burrow, already held patents in the U.S., Australia, China and Japan for a design similar to Slater's.
Webber Wave Pools and the KSWC both claim designs consisting of a donut-shaped pool encircling an island with waves breaking around the island. The patentable aspect lies in the source of the waves: A hull, or "foil" that displaces water, sends a wake toward the island forming a sustained wave. Webber's creates two waves per hull while Slater's forms one.


Paul Roget DesignArtist rendering of Webber's wave pool design, waveside.
In its reapplications, the KSWC focused on this distinction, further stating that the designs create different types of waves, which appears to have eventually persuaded patent examiners to grant KSWC its own patent. Slater wrote that his company's patent had been accepted in an op-ed featured on The Inertia Wednesday.
At time of publication, ESPN was unable to verify Slater's patent claim due to the USPTO's observance of Thanksgiving, a U.S. federal holiday.
Slater distinguishes his wave as a "soliton" –or solitary wave — similar to groundswell, opposed to Webber's Kelvin subcritical waves, which are more reminiscent of wind swell or a boat wake.
Webber, who first became inspired to learn how to make waves by the perfectly-breaking wake of a fishing boat, confirmed Slater's distinction.
Webber's team made a soliton wave while testing designs at Delft University of Technology in the Netherlands in 2006, Webber said. The company did not attempt to patent that particular design because of financial constraints. Also, soliton waves more closely resemble tidal bores, which lack a trough, making them inferior to Kelvin subcritical waves, according to Webber.
"It's not like he's won a battle or I've won a battle…"
For the complete article go here:
http://espn.go.com/action/surfing/story/_/id/7278646/kelly-slater-wave-company-scores-patent-ignites-wave-pool-race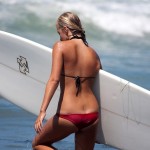 Become A Sponsor!
If you have a product or service that is a good fit for our surf community, we have opportunities for you to sponsor this blog!
Download our media kit now!