VIA – PREU PUNTOCOM


Vanessa Tello deslumbró en Calendario REEF 2012 presentado por LIFESTYLE PERÚ
Tal y como sucede desde hace dos años, la firma REEF Internacional tuvo la genial idea de juntar a cuatro ganadoras de su ya conocido concurso, y alternar la bien cuidada anatomía de las modelos con la naturaleza del sol, mar y arena de la "Isla del Encanto". Ellas son nuestra "Miss REEF 2010" Vanessa Tello, la panameña Betzaida Herrera, Miss REEF Hawaii 2010, la norteamericana Michal Pierce, ganadora del Miss REEF ECSC 2010, y la modelo boricua Cristal, cuyo trabajo tuvo como escenario natural la paradisíaca isla de Puerto Rico. Foto / cortesía Miss Reef 2012-LIFESTYLE PERÚ-Buho Comunicaciones
Jueves 6 de octubre de 2011
Redacción Perupuntocom.com/ Espectáculos
Modelos Fashion & Bellezas
Lima, Perú.-El espectacular video de este calendario podrá apreciarse con solo dar un click en el link de la página de REEF Latinoamérica, que aparecerá en el Facebook de Vanessa Tello:
http://www.facebook.com/#!/tellovanessa
VANESSA: "FUE UNA EXPERIENCIA INOLVIDABLE"
Durante nueve días y junto a sus compañeras, Vanessa Tello hizo de las suyas con sesiones fotográficas de infarto las cuales quedaron plasmadas –también- en videos. Al respecto, la curvilínea modelo señaló que trabajar en esta producción resultó toda "una experiencia inolvidable".
"El trabajo se hizo en abril de este año y fue maravilloso. Pese a ser bastante intenso y todos los días desde muy temprano, se logró fotografías muy naturales y nada posadas.
For the full article and all the photos go here:
http://www.perupuntocom.com/modules.php?name=News&file=article&sid=18671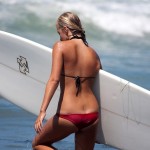 Become A Sponsor!
If you have a product or service that is a good fit for our surf community, we have opportunities for you to sponsor this blog!
Download our media kit now!