VIA – DAILY MAIL
Aloha Alessandra! Victoria's Secret star Ambrosio models bikini top and Daisy Dukes at Hawaii store launch
By Sophie Forbes
Last updated at 10:16 AM on 12th October 2011
The life of a lingerie model certainly appears to be a lucky one – especially when you get paid for going to the beach.
It was sun, sea and surf boards yesterday for Victoria's Secret superstar Alessandra Ambrosio as she stripped off to her bikini to help launch the brand's new store on Oahu's Waikiki Beach, Hawaii.
The tanned and toned 30-year-old showed off her taut abs and long limbs in a pair of tiny denim cut-off shorts paired with a colourful print bikini as she posed for pictures with a custom Victoria's Secret pink surf board.


Beach babe: Alessandra Ambrosio showed off her bikini curves as she helped launch the new Victoria's Secret store in Hawaii yesterday
'Its been amazing, I love Hawaii. I love to stay in Waikiki and opening of the new store is amazing like one of my favorite avenues of the world,' she gushed at the event.
'I came here for my vacation this year in August and its definitely for me is one of the most exotic places its easy access from Los Angeles and I brought my whole family from Brazil here like my parents came my daughter was here,' continued the 30-year-old supermodel.
As an ambassador for the Victoria's Secret brand for over seven years, Alessandra is used to getting across the vital information.
'This is one of the only stores that will carry the swim suit year round so you are going to be able to come here and be able to find a swim suit,' she enthused.
Surf's up: The model then stripped off and headed out to the shore line carrying the custom made pink board
"So many people in front of the new @VictoriasSecret store!!! Go #vshawaii !!!" she tweeted during the day.
It was obviously a fleeting trip to the island paradise as just the day before she was spotted pumping gas in her workout gear following a yoga class in Beverly Hills.
The Brazilian is famed around the world for her amazing figure, and she flaunted it too the full flattering outfit of black leggings and a see-through white T-shirt as she loaded up on fuel.
For the full article and more photos go here:
http://www.dailymail.co.uk/tvshowbiz/article-2048124/Alessandra-Ambrosio-models-bikini-Victorias-Secret-Hawaii-store-launch.html?ito=feeds-newsxml
For more photos of Alessandra Ambrosio surfing and stand up paddleboarding go here:
http://surftweeters.com/?s=Alessandra+Ambrosio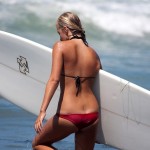 Become A Sponsor!
If you have a product or service that is a good fit for our surf community, we have opportunities for you to sponsor this blog!
Download our media kit now!