Incredible story, what a sweet girl and just one more reason to teach water safety as early as possible…


VIA – ABC NEWS

Boy Survives After 25 Minutes Underwater, Rescued by 12-Year-Old Girl
By KATIE KINDELAN
Aug. 10, 2011
A 12-year-old boy who spent 25 minutes underwater in the Pacific Ocean before being rescued appears to be making a miraculous recovery in an Oregon hospital, five days after the ordeal.
The breathing tube that had been keeping Charles "Dale" Ostrander alive since he was pulled from the water unconscious and not breathing was removed Monday, leaving friends and family amazed at his recovery.
According to the blog, prayersfordale.blogspot.com, set up in his honor, at 4:11 p.m. Monday, "The doctors just removed Dale's breathing tube and he is now breathing on his own. Also, because of possible damage to the brain, they were unsure if he would be able to speak. Minutes after the tube was removed, the doctors told him to cough. Not only did Dale talk back to the doctors, he responded in a full sentence saying, "I don't have to."
Ostrander, of Spanaway, Wash., was swimming in the waters off the Washington coast with members of his church youth group Aug. 5 when he was caught in a riptide and pulled underwater just north of Long Beach, Wash.
First on the scene was 12-year-old Nicole Kissel, who heard Ostrander yelling for help and tried to keep them both afloat using her surfboard.
"I let him on the board first, and I got on top of him, grabbed the board and he said, 'Keep kicking, keep kicking,'" she said.
While Kissel managed to make it back to shore, the waves and swift current became too powerful to resist for Ostrander, who was pulled underwater for 20 to 25 minutes.
"I got up there, and I grasped the sand and said, 'He's dead.' I'm like, 'What am I supposed to do?,'" Kissel said.
Once rescuers from a volunteer surf rescue team finally spotted Ostrander and managed to pull the boy from the sea, he was not conscious and not breathing, and no one expected him to live.
Damian Mulinix, a photojournalist from the Chinook Observer newspaper who had responded to the beach rescue, captured scenes on the beach, where the other children from Ostrander's church group sobbed and prayed.
"They were crying, face-down on the ground, praying — it was a heart-wrenching scene," Mulinix said.
Medics waiting on the shore started CPR on Ostrander immediately and, finally, after reaching a nearby hospital, his pulse returned.
A medical helicopter then flew Ostrander to Oregon Health and Science University in Portland, where he was placed in a medically-induced coma.
The prognosis looked grim over the weekend, and the boy's parents feared the worst.
"They never expected him to live," the boy's father, Chad Ostrander, who was at the beach at the time of the incident along with his wife, Kirsten, said. "They expected him to be a vegetable — never walk, never talk, never say a word."
Doctors in Portland tried one more time to reach Ostrander on Sunday night, easing him off sedatives and calling his name. This time, the young boy opened his eyes and blinked.
For the full story go here:
http://abcnews.go.com/US/boy-survives-25-minutes-underwater-rescued-12-year/story?id=14271832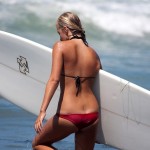 Become A Sponsor!
If you have a product or service that is a good fit for our surf community, we have opportunities for you to sponsor this blog!
Download our media kit now!