Let's hope the mars rover doesn't find killer surf on Mars because you know GMAC will be all over that!…
The Glacier Project
The Glacier Project from Goldstein Douglas Entertainment on Vimeo.
"Garrett McNamara is a big wave surfer and the ocean is his church and playground. As documented by ESPN, he recently surfed a 90-foot wave, one the biggest waves ever recorded being surfed.
But before that, Garrett tackled many challenges like riding thru a 70-foot barrel wave, a world record. Even so, that was not even his toughest challenge.
In Cordova Alaska, lives an impossible phenomenon that some deem the most dangerous wave in the world. However, the wave isn't the only dangerous part, its the falling glacier that causes it. If you get to close to the glacier you die, if you don't get close enough you can't surf and achieve what no other human has done before.
Garrett McNamara and Kealii Mamala both faced the danger and live to tell the tale in this awesome documentary that chronicles every fear, every apprehension to take on the biggest challenge of their careers. "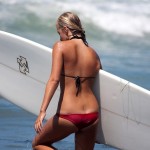 Become A Sponsor!
If you have a product or service that is a good fit for our surf community, we have opportunities for you to sponsor this blog!
Download our media kit now!