VIA – 10 NEWS
Great White Shark Spotted Off Coast Of La Jolla
Passengers On New Seaforth Sports Fishing Boat Spotted Shark A Mile Off Children's Pool
POSTED: 6:29 pm PDT October 3, 2011
UPDATED: 7:36 pm PDT October 3, 2011
SAN DIEGO — Passengers on a sports fishing boat got more than they bargained for over the weekend when a great white shark came within 10 feet of their boat off the coast of La Jolla.
"I've been out in these waters for ten years and this is the closest I have ever been to one," said Cody Ebbert, a deck hand on the New Seaforth sports fishing boat.
Ebbert said the shark sighting occurred on Sunday about a mile off Children's Pool in La Jolla. He said he could clearly see the shark's white underbelly and mouth and estimated the shark was about 10 feet long.
Andy Nosal of the Scripps Institute of Oceanography looked at the video recorded by Ebbert. Nosal said the video definitely shows a shark but the reflection in the water made it hard to determine which it was.
For the full story and video go here:
http://www.10news.com/news/29379156/detail.html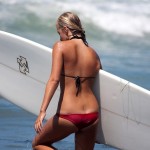 Become A Sponsor!
If you have a product or service that is a good fit for our surf community, we have opportunities for you to sponsor this blog!
Download our media kit now!