VIA – 3 NEWS NZ

VIDEO: Kelly Slater considers retirement after 41st Billabong Pipeline Masters
Mon, 12 Dec 2011 9:09a.m.


The end is nigh. Kelly Slater ran out of miracles and signalled the end of his career as a fulltime competitor as Australia's Kieren Perrow won a thrilling 41st edition of the Billabong Pipe Masters to ensure himself at least one more year on the surfing tour.
Slater, the 11-times world champion, defeated fellow American John John Florence in a drama-charged quarter-final before he lost to Australian Joel Parkinson in the semi-finals and then indicated he would only compete in selected events next year.
"I'm in somewhat of a transition period where I'm going to be re-evaluating my life – whatever is left on tour and what is going to be off tour," he said.
"It's probably a little bit scary because you get so used to one thing but it's also exciting because you have a whole different life open up to you and a whole different opportunity to experience things.
"I've had a lot of focus for a lot of years on competition and I'm definitely welcoming a different direction."
The 34-year-old Perrow, in contrast however, had started the Pipe event with his career on the line having to reach the quarter-finals to even re-qualify for next year's tour. Instead he walked away with his tour future secured and the trophy.
Slater's ride had looked to have been heading for an early exit, staring at a heavy defeat against the 19-year-old Florence, trailing by a whopping 16 points with only eight minutes remaining.
The maximum score on a single wave is ten points, so Slater faced a near-impossible task. He pulled it off with consecutive waves of 9.7 and 7.83, the heat-winner coming with a mere 46
seconds remaining.
The 39-year-old, who then lost to Parkinson, then said he was only a certain starter at the season-opening Quiksilver Pro, to be staged on the Gold Coast in Australia in February, because it comes under the banner of his major sponsor.
Florence's quarter-final appearance was still enough to earn him the Vans Triple Crown for being the best performer of the Hawaiian season at Haleiwa, Sunset Beach and Pipeline.
Results:
Finals
1st – Kieren Perrow (AUS) 13.17pts – $75,000
2nd – Joel Parkinson (AUS) 7.00pts – $30,000
Semifinals:
Heat 1 : Joel Parkinson (AUS) 17.23pts def Kelly Slater (USA) 16.83pts
Heat 2 : Kieren Perrow (AUS) 12.00pts def Michel Bourez (BRA) 4.07pts
Quarterfinals:
Heat 1 : Joel Parkinson (AUS) 12.00pts def Jamie O'Brien (HAW) 9.43pts
Heat 2 : Kelly Slater (USA)17.53pts def John John Florence (HAW) 16.70pts
Heat 3 : Michele Bourez (PYF) 7.70pts def Evan Valiere (HAW) 3.66pts
Heat 4 : Kieren Perrow (AUS) 17.23pts def Gabriel Medina (BRA) 9.26pts
For the video go here:
http://www.3news.co.nz/VIDEO-Kelly-Slater-considers-retirement-after-41st-Billabong-Pipeline-Masters/tabid/415/articleID/236167/Default.aspx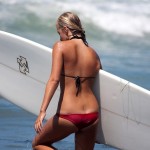 Become A Sponsor!
If you have a product or service that is a good fit for our surf community, we have opportunities for you to sponsor this blog!
Download our media kit now!