Noll Surfboards in Chase Sapphire Installation- Sundance 2012
"Uploaded by Sasurface on Jan 27, 2012
Noll Surfboards Brings North Shore History to Sundance Film Festival:
Partners with Chase Sapphire to Showcase Pipeline Relics at Riding Giants Installation
Park City, Utah (January 23, 2012) — Noll Surfboards, the surf brand founded on epic big-wave pioneering and transoceanic aloha, today announced their participation in the "Chase Sapphire on Main" art installation at the 2012 Sundance Film Festival in Park City.
Showcasing memorabilia from three historic Sundance films, including Stacey Peralta's 2004 documentary Riding Giants, the exhibit gives visitors a unique opportunity to interact with original surfboards and gear used by North Shore big- wave pioneer Greg Noll.
"We are honored to be able to bring some California stoke to the slopes of Utah," stated Jed Noll, CEO of Noll Surfboards. "The Sundance Film Festival is driven by authentic acts of courage on-screen and off by the directors, actors and supporting casts who have put their passion into making their film and sharing it with the world. We support that expression and the inspiration that results."
Genuine historical pieces on display from Noll Surfboards include Greg Noll's original "Jailhouse" black and white striped shorts, the original "Pipeline Gun" made famous by John Severson's iconic photo at Pipeline in 1964, and Miki Dora's original "Da Cat" surfboard.
For more information on Noll Surfboards, please visit www.nollsurfboards.com
About Noll Surfboards:
Originally established in 1951 as Greg Noll Surfboards, Noll Surfboards is one of the world's original surfing brands. Inspired by the big-wave surfing of Greg Noll in California and Hawaii and dedicated to creating the finest surfboards and apparel on the market, the Noll brand is reemerging as the industries authentic surf company. All Noll products, from tees to vintage wear to classic wooden recreations and modern foam boards, are created in the USA. For more information visit www.nollsurfboards.com."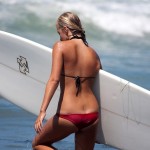 Become A Sponsor!
If you have a product or service that is a good fit for our surf community, we have opportunities for you to sponsor this blog!
Download our media kit now!