TRON?
VIA – THE DAILY TELEGRAPH

Welcome to the dark side of surfing
Henry Budd
The Daily Telegraph
December 02, 2011 12:00AM
HOW do you catch a wave you can't see?
That was the conundrum which faced 20 surfers who took to the surf in the dark at Bondi this week.
Dressed in neon bodysuits, the surfers relied on feel more than sight to catch the 1m waves – and the lights at Icebergs at the south end of the beach at least scattered some light across the break.
Bondi surfer Victoria Larnach was one of the daredevils who caught a few rides – once her eyes adjusted to the dark.
"It was actually pretty good surf, there were some decent sets rolling in," the 26-year-old said. "You could just make out the tops of the waves but you had to rely on your instinct as they got a little bit closer. It was really fun and a once-in-a-lifetime experience."
The suits were made from a similar material to rash vests and had a small battery pack to power the lights. The night surfing session was instigated by Strongbow to celebrate the first day of summer, with the action captured by a team of photographers and surf filmmaker Jack McCoy…
For the full article go here:
http://www.dailytelegraph.com.au/news/sydney-nsw/welcome-to-the-dark-side-of-surfing/story-e6freuzi-1226211808487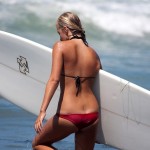 Become A Sponsor!
If you have a product or service that is a good fit for our surf community, we have opportunities for you to sponsor this blog!
Download our media kit now!