21 January 2012
WARNING – Gnarliest Shark Attack Photo EVER!
Words by Chris Nomad
DO NOT SCROLL DOWN IF YOU ARE SQUEAMISH (DUDE SERIOUSLY).
According to news sources in Australia there have been 3 separate shark attacks in the last 3 weeks. Three attacks per year is considered more the normal for the entire country.
However, the last attack on tattoo artist and surfer Glen ''Lenny'' Folkard was supposedly in the exact spot where a lifeguard named Reginald ''Rex'' Ogilvie was brutally attacked by the same shark three times in 1932 before making it to shore with a chest so mutilated his lung was exposed!

Photo of Rex Ogilvie's shark attack wounds circa 1932
Glen ''Lenny'' Folkard was taken for emergency treatment for his vicious wounds to John Hunter Hospital. Later a photo leaked online by possible hospital staff creating a huge firestorm and investigation into the source of the leaked photo. We got a copy of the grotesque photo (WARNING – DO NOT SCROLL DOWN IF YOU DO NOT WANT TO SEE THIS PHOTO!):
The other shark attack victim was 26 year old David Pickering who was snorkeling in Western Oz on Friday when he was attacked by a 10 foot tiger shark. After fighting the shark off with punches, David was airlifted 700 miles away to the closest hospital. You can watch an interview here:
The first shark attack occurred earlier in the month near Sydney where the victim was left with minor wounds but was reported to have made a full recovery.
Thanks for the read, if you feel so inclined leave a comment or send me a message — Chris Nomad for Surftweeters.com
https://twitter.com/#!/NorCalSurfNomad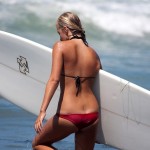 Become A Sponsor!
If you have a product or service that is a good fit for our surf community, we have opportunities for you to sponsor this blog!
Download our media kit now!