VIA – YAHOO
Warning over washed up whale
July 19, 2012, 12:47 pm
People have been told to stay away from a dead whale washed up on a Victorian beach after a group of men were pictured posing on it.
The photo of one man using the rotting carcass as a surfboard while others pose next to it emerged on Facebook, and were published in The Standard today.
Warrnambool residents are reportedly outraged by the 'callous' act.
The Department of Sustainability and Environment (DSE) has issued a warning to people to stay away from the decomposing carcass, which was discovered washed up at Eagle Rock, Warrnambool, on Monday.
Senior Biodiversity Officer Mandy Watson said it's illegal to interfere with a whale, whether it's dead or a live, or take parts from a dead whale.
She said anyone who approached or tampered with the carcass could face fines of up to $32,000 and/or prison sentences.
"It is also an offence to approach within 300 metres," she told The Standard.
Ms Watson said the whale carcass is currently resting upside down on a rock ledge.
"Due to its current precarious position and poor access to the area the whale cannot be removed in the short term," she said.
"The slippery carcass weighs approximately 40 tonnes and is very unstable as it rolls around with the waves."
Ms Watson also urged people to stay away for their own safety, insisting the decomposing whale carcass is a health risk and could attract large sharks.
"The carcass will swell and possibly burst open as it begins to decompose," she said.
"Decomposition of the whale will release oil and fluids into the ocean which could attract very large sharks.
"DSE strongly advises swimmers and surfers to stay well clear of the area."
For the original post go here:
http://au.news.yahoo.com/a/-/newshome/14271571/warning-over-washed-up-whale/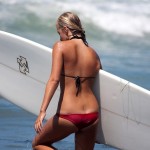 Become A Sponsor!
If you have a product or service that is a good fit for our surf community, we have opportunities for you to sponsor this blog!
Download our media kit now!