VIA – LA JOLLA LIGHT
Shaper Tim Bessell says the Warhol Foundation rejected four or five of his preliminary surfboard-art designs.
Longtime WindanSea Surf Club (WSC) member and board shaper Tim Bessell has released his second line of surfboards inspired by the work of the late American pop artist, Andy Warhol.
Last year Bessell was commissioned by the Andy Warhol Foundation to create an initial series of boards, each bearing the image of one of Warhol's works, such as "The Last Supper" and "Guns." That line is completely sold out, and by its May 23 release the new line of Warhol- inspired boards was almost halfway sold out via presale orders, Bessell said.
Surfboard shaper and artist Tim Bessell at his WindanSea gallery. File
The new boards feature Warhol's "Flowers," "Dollar Sign," "Self-Portrait," "Elvis" and "Campbell's Soup Can."
A sixth board, inspired by Warhold's 1962 Silkscreen painting, "Marilyn Diptych," is awaiting final design approval by the Marilyn Monroe Foundation.
The boards sell for just under $7,000. Bessell said the design approval process was more complicated this time around. In addition to the Andy Warhol Foundation, he had to get approval from the Presley and Monroe foundations, and the Campbell's Soup Company (all three of which required sub-licensing agreements).
For each hand-shaped, Warhol board design, Bessell submitted three or four preliminary concepts to Campbell's and the other foundations.
"The Warhol foundation was pretty stringent," said Bessell, noting that they rejected four or five of his preliminary designs. "It's good; it just makes us better to adhere to their high standards."
Bessell got involved with WindanSea Surf Club in the early '80s, after entering the club's Menehune youth surfing contest at age 13. The club is currently celebrating its golden anniversary.
A current WSC board member, Bessell created a 10-foot "gun" board that will be auctioned off during the California Surf Museum's gala on June 8 (which coincides with the launch of WSC's 50th anniversary exhibition there).
Bessell still competes in WSC competitions throughout the state, and took second place at a coalition contest at Tourmaline Surf Park several years ago.
"It's a double-edged sword; everyone's always angry that we win all the time," he said, "but we have the best surfers."
for the original post go here:
http://www.lajollalight.com/2013/06/04/windansea-surf-club-member-releases-second-line-of-warhol-inspired-surfboards/bessell-8-2/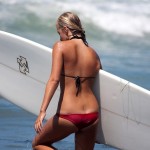 Become A Sponsor!
If you have a product or service that is a good fit for our surf community, we have opportunities for you to sponsor this blog!
Download our media kit now!