VIA – TMZ
World Record Big Wave Surfer – I Have Superhuman Underwater Survival Abilities
He already holds the world record for surfing the biggest wave on the planet at 90 feet (below) — but pro surfer Garrett McNamara still thinks he can shatter it … with his incredible customized oxygen-enhanced wetsuit.
Garrett tells TMZ, the suit was enhanced with a special oxygen pocket developed by Camelback — the water canteen company — designed to hold a small oxygen reserve in the suit's lining, allowing McNamara to breathe oxygen underwater through a straw.
http://youtu.be/nd2jtwviyC8

According to Garrett, the suit would give him several extra minutes of survival in case a massive wave buries him below the surface — and in those situations, minutes can save a life.
McNamara tells us, he's currently looking to break his 90-foot wave record with the new suit — hunting down a 120-footer in Nazare, Portugal … where the biggest waves in the world break…
For the full article go here:
http://www.tmz.com/2012/01/30/garrett-mcnamara-big-wave-wetsuit/#.TycBp_mccTA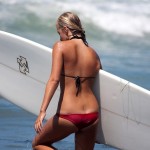 Become A Sponsor!
If you have a product or service that is a good fit for our surf community, we have opportunities for you to sponsor this blog!
Download our media kit now!