VIA – OC REGISTER



The Stand Up Paddle World Tour is in Huntington Beach this week, bringing the world's top SUP surfers to compete in the first ever North America event.
PHOTO BY LAYLAN CONNELLY
World's best SUP surfers compete in H.B.
By LAYLAN CONNELLY / THE ORANGE COUNTY REGISTER
When Daniel Hughes heard the Stand Up Paddle World Tour was hitting his home break, the Huntington Beach surfer signed up immediately.
For two months, Hughes surfed the south side of the Huntington Beach Pier on his Stand Up Paddle – eight hours straight, every day, to go up against the world's best. He entered the trials on Wednesday, battled his way into the contest, and on Friday nabbed a spot into the quarterfinals when the contest resumes on Saturday.
"It's awesome, it's the first time it's ever been here," said Hughes, 18.
CHECK OUT PHOTOS FROM FRIDAY'S ACTION IN HUNTINGTON:
The best Stand Up Paddle surfers came from around the globe to Surf City this week to compete in the Stand Up World Tour, an event never before held on mainland America. There were 68 competitors who entered the trials for a spot in the main event, while there were 32 seeded competitors who entered the main contest.
The conditions have been great for the competitors, starting with a swell that showed mid-week when the trials started on Wednesday, all the way through Friday with lingering swell and glassy water with little wind through the afternoon.
Infinity rider Slater Trout, 16, came from Maui for the Battle of the Paddle and stayed for this contest. The two events are much different – with distance racing, you have to be more disciplined in training. For this event, it's a bit more laid back and fun.
"I'm stoked to finally be in waves, it's been a grueling summer for me with races," said Trout.
Dana Point surfer David Boehne – who also competes in SUP races – made it through the trials and competed on Friday.
"I've been waiting for it all year long to surf this," he said. "I made it through six heats already, starting last Wednesday. I'm tired for sure. If I didn't train for paddle racing, I'd probably be really tired. It's fun to get back into a surf competition."
Having the World Tour stop here in Huntington Beach will help propel exposure for the sport.
"If you want to do a contest, you want to do it in Huntington Beach. It's the most famous surf town in America," Boehne said. "To have it here, with the best guys in the world, it's pretty rad. You don't get to see these guys compete too often."
Among the world's best are surfers like San Clemente's Colin McPhillips. The three-time ASP Longboard World Champion switched over to SUP surfing, and hasn't really done much regular longboarding.
For the full article and all the photos go here:
http://www.ocregister.com/articles/huntington-319873-beach-world.html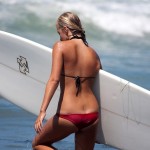 Become A Sponsor!
If you have a product or service that is a good fit for our surf community, we have opportunities for you to sponsor this blog!
Download our media kit now!