VIA – USA TODAY
X Games superpipe final devoted to memories of Sarah Burke
By James Sullivan, BNQT.com
ASPEN, Colo. – In an emotional final capping off three weeks of sorrow surrounding the death of of women's freeski pioneer Sarah Burke, Canadian Roz Groenewoud won the gold medal in women's superpipe at the Winter X Games Saturday.
By Doug Pensinger, Getty Images
Roz Groenewoud of Canada soars above the pipe as she warms up for the women's ski superpipe finals during Winter X Games at Buttermilk Mountain on Saturday in Aspen, Colo.
Adorned with "Celebrate Sarah" stickers on her helmet, Groenewoud rallied to beat Maddie Bowman with a second-run score of a 93.66 – the highest score in the event's history.
Groenewoud, a close friend and Canadian teammate of Burke, took the lead from Bowman in her second run by executing a large 14-foot high straight air, a right rotating 900 (2½ rotations), a left rotating 540 into a left rotating 720 before ending with a switch right rotating 540.
"We really were trying to push each other with bigger and bigger tricks and try to be the best skiers we can be," Groenewoudd said.
Burke, a six-time X Games champion, died Jan. 19, nine days after a fall during training. She suffered damage to her brain due to a lack of oxygen and blood after cardiac arrest. She was 29.
On Saturday, throngs of freeski fans crowded the base of the superpipe at Buttermilk mountain where signs, placards and armbands dedicated to Burke showed an overwhelming expression of solidarity for the late skier's legend.
"I think it's nice that everyone came together after (Sarah's death) and that there's so much support for her and for women's superpipe right now," said Jessie Wurm, 24, of Whitefish, Mont. "That's why, especially, we came out this morning."
Paige Cummings from Edwards, Colo., says her daughter, Jessica, is also a competitive freeskier and has known Burke for years.
"I think everyone's honoring Sarah," Cummings said. "My daughter, Jessica, is a competitor, too, so she was a very good friend of Sarah, and my son-in-law has known her since they were 14 years old, so I think it's great that everyone is out here. It's such a beautiful day… it's a great tribute to her."
On Thursday, ESPN broadcast a touching video tribute to Burke capturing her passion and love for skiing and freeskiing's close-knit community.
"It was definitely a super emotional week, but the tribute on Thursday was amazing," Groenewoud said. "Just to feel so much love pouring out from the ski industry and all the love today, I just tried to let all that love lift me up."
Lifting the progression of women's freeski superpipe continues to be a theme in the sport. American Brita Sigourney, last year's silver medalist, crashed in her first two runs of the final, but then landed the first 1080 in competitive history.
"It was my first 1080 of the year, I hadn't practiced it at all," she said. "The only time I've landed it was in this pipe last year, but only in training, so I decided to go for it in the third run. I'm stoked for how it went. "
Sigourney added that Burke's spirit of progression was an inspiration.
"I think we're all just trying to progress the sport so it feels good to keep pushing it. I think Sarah would've been proud of us and she would've been trying to do the same. We're just trying to carry out her legacy right now."
It looked like Sigourney's final run might have been enough to win, yet her score of 90.66 could only secure bronze, guaranteeing the gold for Groenewoud before her final run.
Coming to a halt after her victory lap, Groenewoud was mobbed by friends and…
For the full article go here:
http://www.usatoday.com/sports/olympics/story/2012-01-28/sarah-burke-honored-at-x-games/52845550/1?csp=34sports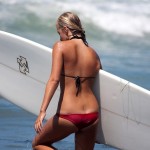 Become A Sponsor!
If you have a product or service that is a good fit for our surf community, we have opportunities for you to sponsor this blog!
Download our media kit now!