VIA – OHGIZMO!
ZBoard Electric Skateboard Doesn't Need Handheld Controller
By David Ponce
That headline right there pretty much sums up why the Zboard is worthy of mention. But don't take that lightly. If you're going to opt for the electrically powered four-wheeled-wooden-board locomotion, controlling the throttle with a knob in your hand is a decidedly inelegant way to go about it. The ZBoard instead opts for two pressure sensitive pads located in front and at the back of the board; lean forward to go, and back to slow down. There's even regenerative breaking for greater efficiency. The 400W motor on this little board will take you up to 17mph for about 10 miles, and if the video is any indication of real life performance, it looks like a lot of fun. There are two versions, the Pro and Classic…
For the full article go here:
http://www.ohgizmo.com/2012/02/23/zboard-electric-skateboard-doesnt-need-handheld-controller/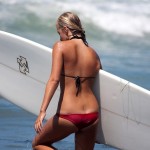 Become A Sponsor!
If you have a product or service that is a good fit for our surf community, we have opportunities for you to sponsor this blog!
Download our media kit now!