VIA – CNN GO
Best surf breaks in Sydney
Sydney's best surf breaks aren't about crowds at iconic beaches — finding them just needs a little local knowledge
By Darren Foord 7 September, 2011
Surfing. It conjures up images of exotic locales, palm-fringed shorelines, adventure and discovery and of a lifestyle that basks in the sun's warming embrace. Whilst Tahiti or The Solomons offer this dream in abundance, Sydney's version of donning rubber or boardshorts has become a gladiatorial exercise in frustration and at times futility.
Welcome to the combative nature of urban surfing. Sydney style.
Whilst that iconic movie, "The Endless Summer", may echo in older memories, Sydney surfing is a juxtaposed conundrum of how far we've come and of how much we've lost. The simple pleasure gained from one good turn, a cover up, or the chance to meditate upon the day, belies the stark reality of crowded line-ups, localism, injuries, and competition for waves.
This article is a selection of alternative considerations for the experienced local, the adventurous traveler, or even the novice seeking to tick the "surfed in Australia" box.
Before joining the hordes at Cronulla, Bondi or Manly, that spot just around the corner may offer that elusive, meditative and downright soulful experience "The Endless Summer" once promised us. Right here in Sydney.
Garie Beach, Royal National Park


Deep in the Royal National Park, sharks and big breaks make this swell for the experienced surfer.
Garie is a great left-hand beach break that offers intermediate and experienced surfers solid waves up to two meters high in solid north to northeast swells.
Access is via the Royal National Park south of Cronulla and north of Wollongong. A park entry fee is required.
This beach can also be frequented by the odd shark or two, so make sure you have a slower, fatter friend with you
Shark Island

The infamous Shark Island break has brought many undone.
Feeling like a lunatic today? Perhaps you need to feel more aware of your own mortality?
A hardcore reef made of sharp rock. Extremely shallow, in the lineup it's about two meters deep, then it sucks up on dry reef. A deposit of skin is the usual transaction required should you not judge the takeoff correctly. Experienced surfers only.
Wanda Beach
Wanda Beach was the location for the 1980s coming-of-age movie, "Puberty Blues". If seclusion from the Cronulla crowds is what you're after, then Wanda and Green Hills are the closest you will get to it in Sydney.
A fun, peaky little beach break that works well in southeast and easterly swell. It's a long walk from Wanda car park north of Cronulla, but worth it.
Mackenzie's (Macca's)
A good break, but when the swell's up, only the brave paddle out.
A spot for all levels of surfer, Macca's is located on the north side of the Tamarama rock platform.
Walk from Tamarama or down from the coastal walkway. Or you can paddle from Bronte if you're feeling fit.
Hugely dependent on the shifting sands, this spot, whilst a little fickle, can be a lot of fun if you get it at the right time. Beware of the rocks.
If you make it out unscathed, it's a short walk to a beer at the Bondi Icebergs, the southerly point of the bar and café district that is Bondi Beach.
For the full guide to surfing spots in Sydney go here:
http://www.cnngo.com/sydney/play/city-essentials/best-surf-breaks-sydney-920915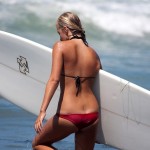 Become A Sponsor!
If you have a product or service that is a good fit for our surf community, we have opportunities for you to sponsor this blog!
Download our media kit now!