CTV British Columbia
Published Sunday, May 19, 2013 7:48PM PDT
A Campbell River man facing more than $10,000 worth of major reconstructive surgery after a chance encounter with a breaching whale says he's just lucky to be alive.
Ray Boyd was crossing the waters off northern Vancouver Island when an enormous whale breached next to him, colliding with his boat and sending him flying.
"I trimmed the motor up, right, so I glanced back at the motor…spray. The whale spray was right in front of me," Boyd recalled Sunday.
"Bang! I felt the collision, I went flying through the air, hit my head or whatever, lost consciousness," he said. "When I woke back up again, it was kind of like, surreal, almost."
Boyd, who said he believes in angels, thinks there must have been some divine intervention that prevented his boat from steering onto land while he was out cold.
"I woke back up and the boat was still running wide open, straight down the channel," he said, adding the 22-foot Grady-White vessel was only 100 yards off-shore when he was struck.
"That boat never runs perfectly straight, and that boat was running perfectly straight down the channel," he said. "Otherwise…I would've turned into shore, crashed head on into shore."
Boyd will now need to undergo more than $10,000 worth of dental surgery to repair the extensive damage to his teeth and jaw
"Basically this bone here is smashed and all these top teeth fell out," he said, motioning to the area above his upper lip. "Jaw's broken but they couldn't wire it, because there's nothing to wire to, because this bone is gone."
Experts from the Marine Education and Research Society say humpback whales are making their way back into waters around Vancouver Island.
They're using Boyd's experience as a cautionary tale, reminding boaters to be aware of marine life at all times.
For the video go here:
http://bc.ctvnews.ca/video?clipId=930126&binId=1.1184796&playlistPageNum=1
With files from CTV Vancouver Island
Read more: http://bc.ctvnews.ca/island-man-needs-extensive-surgery-after-smashing-into-whale-1.1288832#ixzz2Tod5Dprc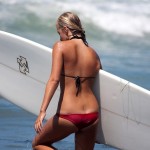 Become A Sponsor!
If you have a product or service that is a good fit for our surf community, we have opportunities for you to sponsor this blog!
Download our media kit now!