Published on Apr 11, 2012 by nzwomenssurf
Round One highlights from the Dow AgroSciences PRO, Taranaki, New Zealand
UP TODAY:
Heat 1: Paige Hareb (NZL) vs. Pauline Ado (FRA)
Heat 2: Coco Ho (HAW) vs. Rebecca Woods (AUS)
Heat 3: Carissa Moore (HAW) vs. Gaby Sansom (NZL)
Heat 4: Sofia Mulanovich (PER) vs. Justine Dupont (FRA)
Heat 5: Malia Manuel (HAW) vs. Jacqueline Silva (BRA)
Heat 6: Lakey Peterson (USA) vs. Sarah Mason (NZL)
The ladies are in the water now, check all the action here LIVE:
http://nzsurffestival.co.nz/livefeed.html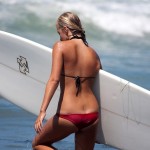 Become A Sponsor!
If you have a product or service that is a good fit for our surf community, we have opportunities for you to sponsor this blog!
Download our media kit now!